Hokkaido Powder Belt Itinerary - Experience a Powder Paradise!
The Hokkaido Powder Belt is a snow-lover's dream – covering a region of approximately 15,000 square kilometre and located in-land, it compounds extremely low temperatures with minimal humidity to create the lightest and driest snowfall in Japan.
Using Hoshino Resorts OMO7 Asahikawa and Hoshino Resorts TOMAMU as the primary bases allows for flexibility when jumping to and from different ski resorts. The variety of mountains and their ease of access compels a stay of at least one week, especially if you are looking to make the most of north Japan's varied terrain and phenomenal powder snow.
Based on your interests and ability, you can design your own itinerary using the bases and ski resorts below as a guide.
BASE 1 – OMO7 ASAHIKAWA
Your journey can begin in Asahikawa, best accessed by Asahikawa Airport. Being Hokkaido's second largest city, Asahikawa provides a multitude of lively dining establishments to keep skiers entertained after a long day on the slopes. Hoshino Resorts OMO7 Asahikawa is a casual accommodation fitted with all the needs of an active traveller. Its primary merit lies in its small group tours and choice of many lively dining establishments nearby.
KAMUI Ski Links
Courses available for all levels and backcountry access for the advanced
A direct 40-minute bus trip from OMO7 Asahikawa awaits KAMUI Ski Links – a small, family friendly resort that welcomes quality powder snow each year. Serviced by five lifts and one gondola, KAMUI Ski Links has a great variety within its 25 courses and a relaxed off-piste policy. The available courses are split evenly between beginner, intermediate and advanced with the mix of long top-to-bottom cruisers perfect for those not quite ready to go off-piste. Extra variance is offered by the in-bounds tree skiing and small bowls that provide additional entertainment. The primary advantage of KAMUI Ski Links lies in its low profile, remaining a modest resort that heroes excellent ski conditions and rarely feels crowded. Hoshino Resorts TOMAMU and Kamui Ski Links offer joint lift passes from 14,000 yen for three days. For more information, please enquire with the reservations team at the time of booking.
Access: 35 minutes by bus from OMO7 Asahikawa, available from December to mid-March.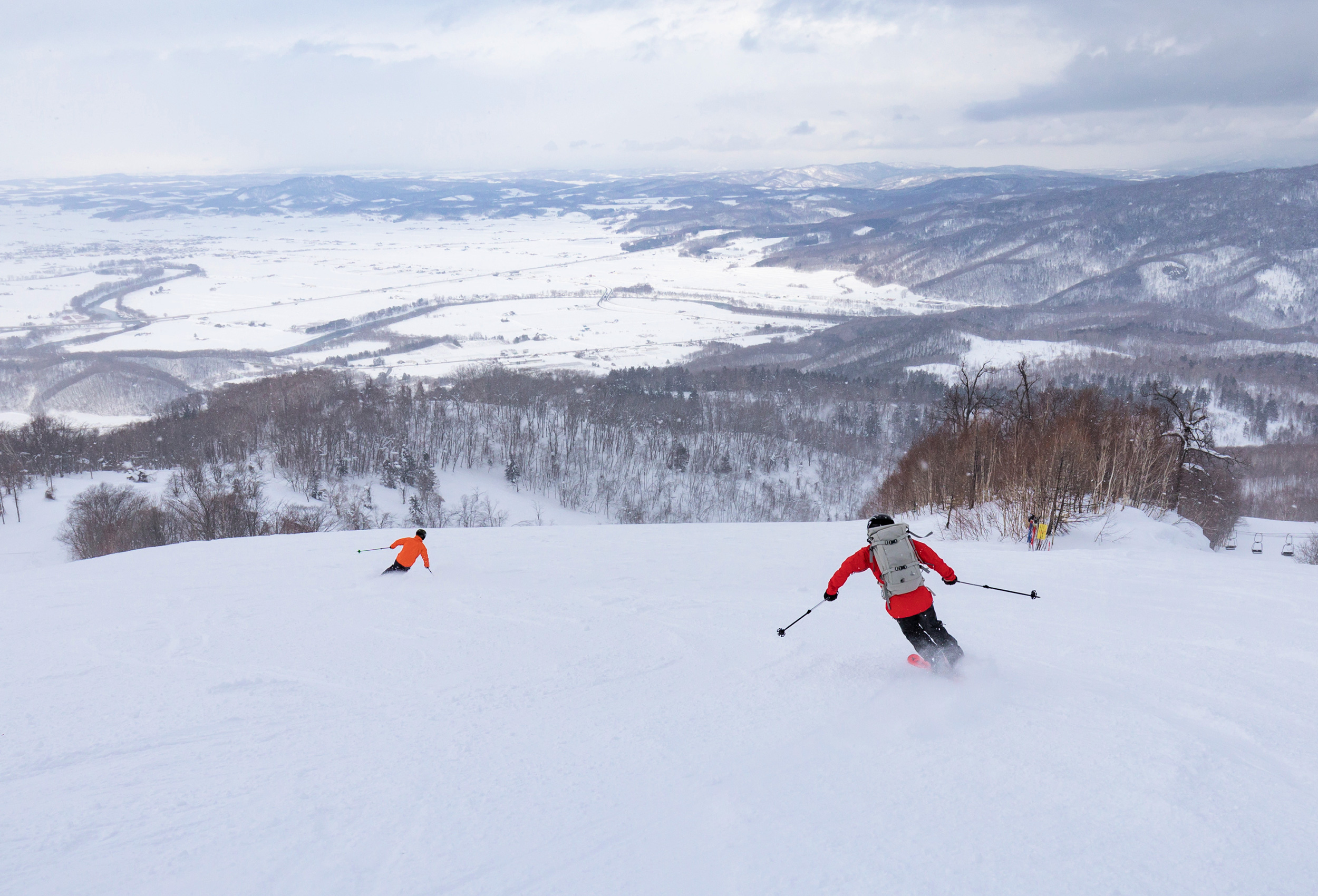 Mt. Resort Asahidake
Best for advanced skiers due to limited groomed courses
Those in search of a challenge will find it on the highest mountain of Hokkaido, Asahidake, which towers to 2,290m. Home to some of the lightest and driest powder in Japan and backdropped by a volcano periodically billowing out steam, Asahidake is a haven for natural phenomena, occasionally welcoming diamond dust–tiny ice crystals that form when the temperature drops below minus 15 degrees in the presence of sunlight. Against this incredible scene sits an expanse excellent for backcountry skiing with a variety of chutes and ridges, serviced by one cable car rising 500m and taking skiers above the tree line of native spruce. A limited number of cruisy, on-piste runs suited to beginners are available. Given the advanced terrain and the high chance of an almost vacant mountain, Asahidake is best suited for expert skiers.
Access: 75 minutes by bus from OMO7 Asahikawa, available from December to March.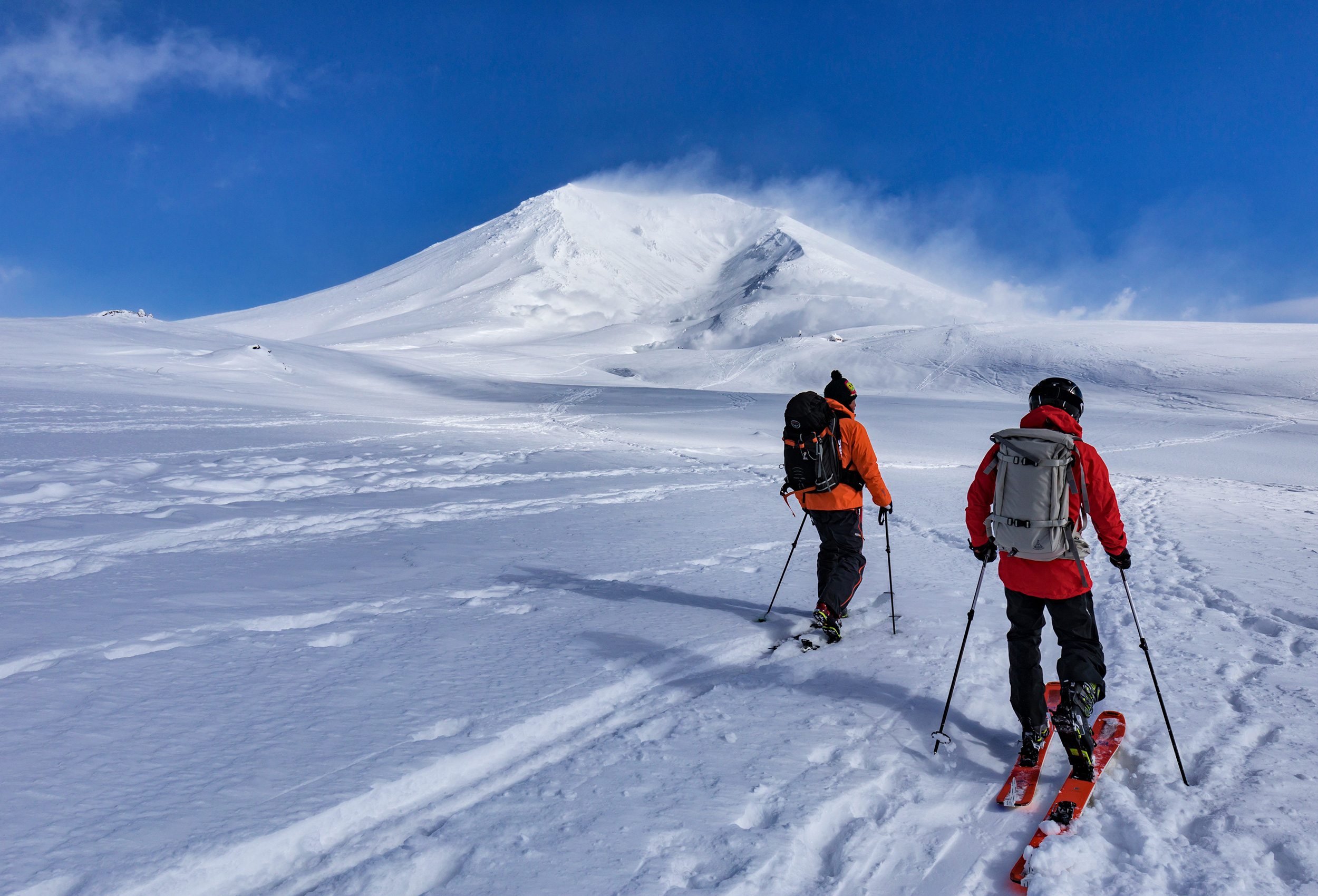 BASE 2 – HOSHINO RESORTS TOMAMU
To transfer to the south of the Hokkaido Powder Belt, guests can book a bus which will take them directly to Hoshino Resorts TOMAMU. This opens the gateways to a further variety of mountains which are situated within central Hokkaido. Located in the more secluded town of Shimukappu, Hoshino Resorts TOMAMU is an attractive choice of stay due to the plethora of dining establishments – up to 29, and a range of world-class facilities such as an Ice Village and indoor wave pool all located within the one resort.
Hoshino Resorts TOMAMU
Courses available for all levels and ample backcountry for the advanced
When it comes to on-site skiing, Hoshino Resorts TOMAMU offers superb conditions with 29 courses, 5 lifts and one gondola sprawled across 123ha of land. Mount Tomamu has an impressive elevation with a peak of 1,239m. Within this, there is a variety of terrain spanning from beginner-oriented courses to long groomed runs to tree skiing. There is also the option to explore the 'Experts Only Powder Area' which as the name suggests, is an out of bounds area restricted to only experienced skiers. The beauty of Hoshino Resorts TOMAMU is that it has all the facilities you could possibly need for rest, recovery and additional leisure, while home to and in close proximity to the best conditions offered on the Hokkaido Powder Belt.
Access: A bus is available between OMO7 Asahikawa to Hoshino Resorts TOMAMU from December to April.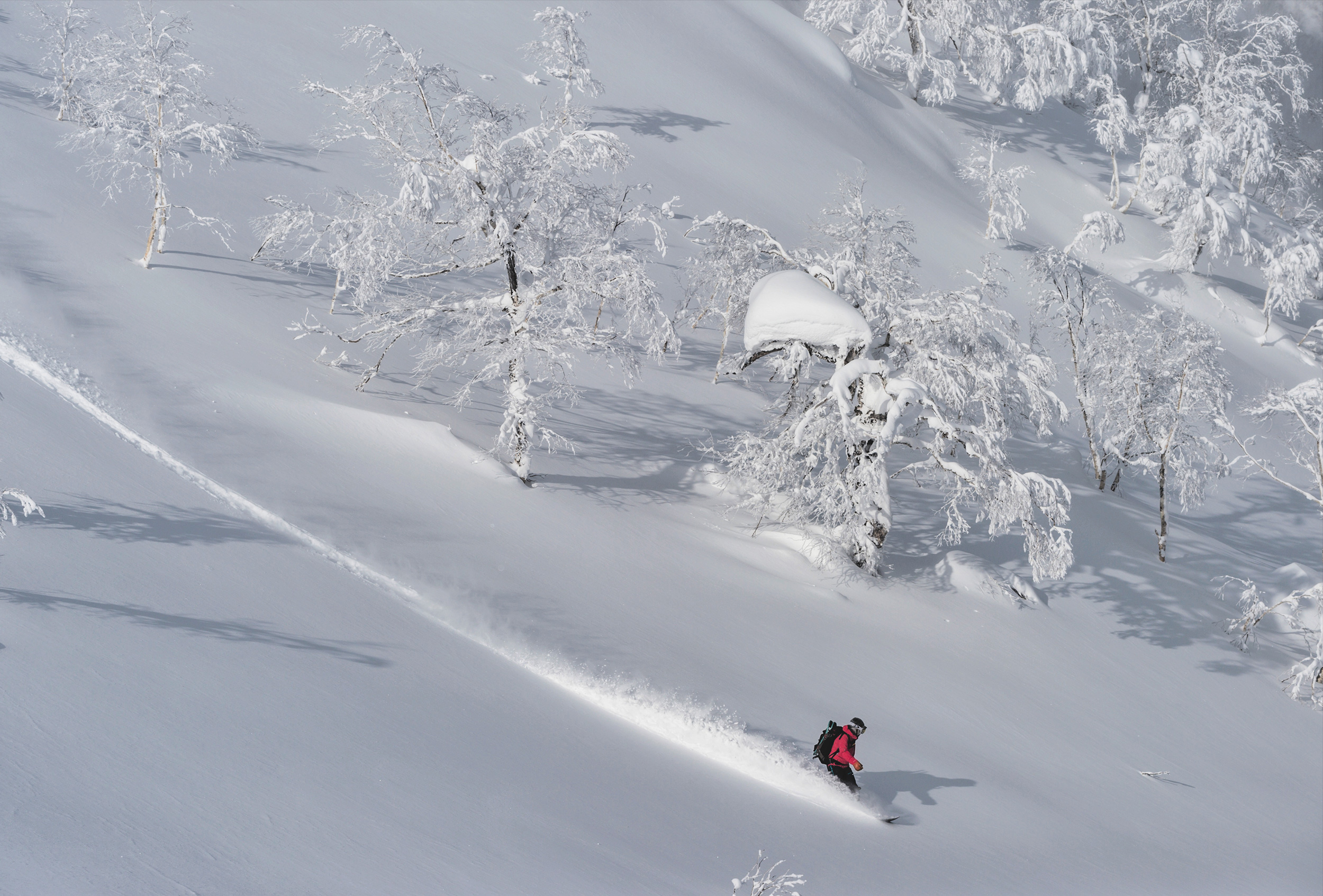 Sahoro Resort
Courses favour beginner and advanced skiers
Less than an hour away is Sahoro Resort, which similarly provides great conditions worth venturing towards. The northern slopes boast 21 courses serviced by 7 lifts and one gondola, and the peak offers stunning panoramic views of the distant Tokachi Plains and Hidaka Mountains. The available courses favour both beginners and advanced skiers, with a limited handful of intermediate courses. In addition to an abundance of ungroomed trails, tree skiing in the surrounding area is also permitted.
Access: 45 minutes by bus from Hoshino Resorts TOMAMU, available from December to March on Monday, Wednesday and Friday.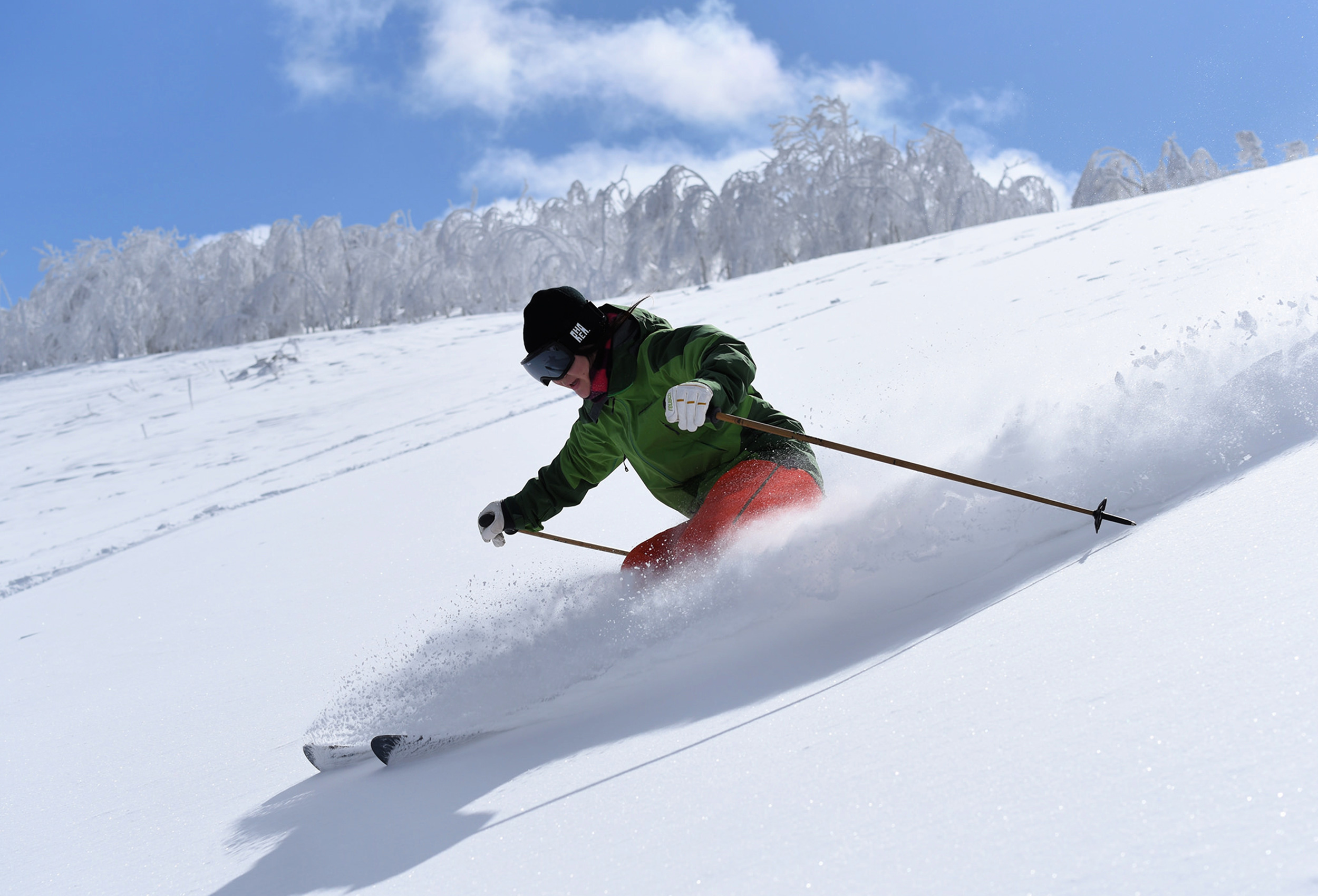 Furano Ski Resort
Courses available for all levels and plenty of side country for advanced skiers
Although slightly further away from Hoshino Resorts TOMAMU, Furano Ski Resort posits the ideal, final, powder-filled day trip. A testament to the great conditions is that Furano Ski Resort regularly hosts ski and snowboarding competitions, including the FIS Downhill World Cup. With 20% of its terrain suited to advanced skiers, and the other 80% split evenly between beginner and intermediate skiers, there are a variety of runs to experiment with. A drop of over 950 meters is serviced by 11 lifts – and indulges incredible views of the town and valley below. There is also access to side country areas which offer great tree skiing and fun terrain for those seeking a thrill.
Access: 75 mins by bus from Hoshino Resorts TOMAMU, available from December to April.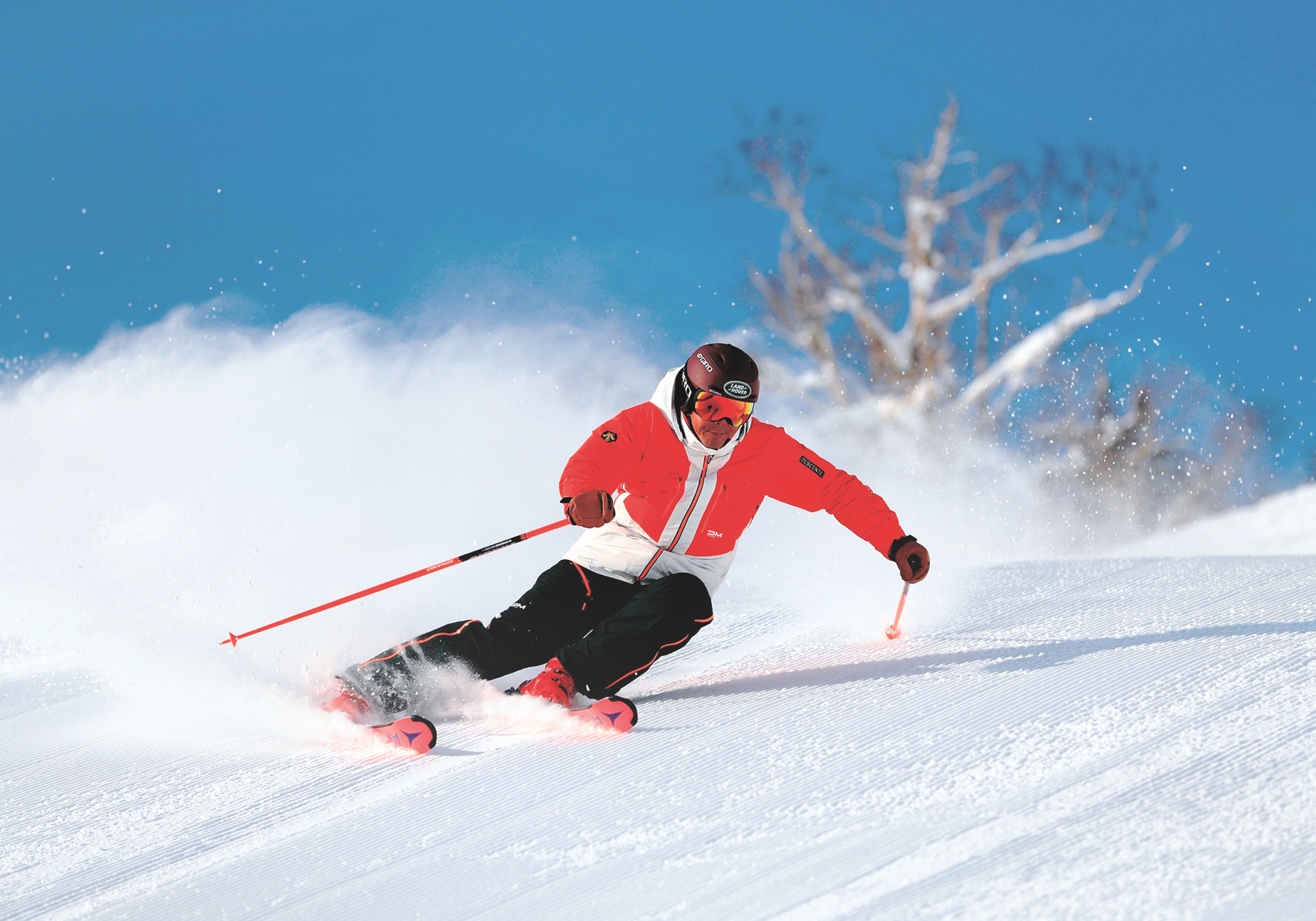 International access
If following the above route and beginning in Asahikawa and finishing in Tomamu, the best option may be to fly into Asahikawa airport and out of New-Chitose airport. A shuttle bus can pick up guests and take them from Asahikawa Airport to Hoshino Resorts OMO7 Asahikawa, and from Hoshino Resorts TOMAMU to New-Chitose airport. Both are well serviced by domestic flights and can be very affordable when Japan's low-cost carriers such as Peach and Jetstar offer promotions.