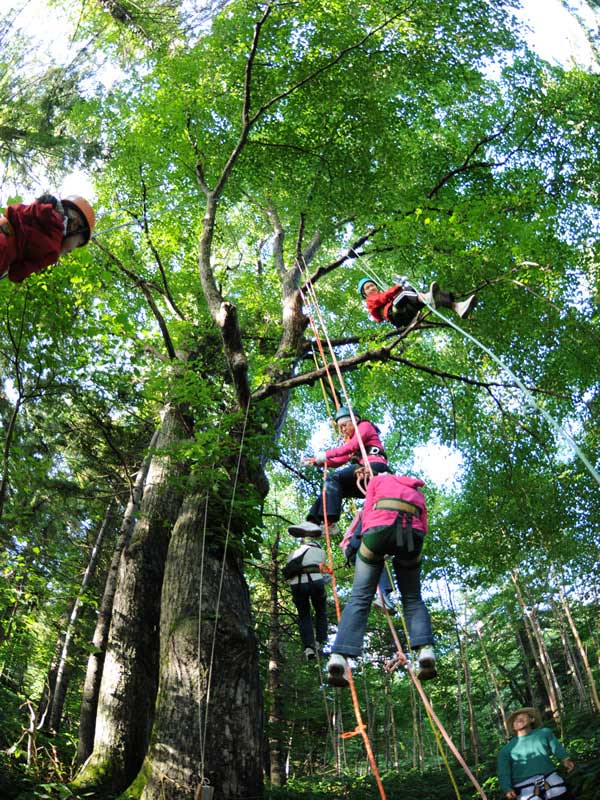 ロープとサドルだけを使って登る、非常に簡単なレクリエーションスポーツです。登り方のコツさえ掴めば誰にでも簡単に登れ、鳥や動物の目線で森を見ることが出来ます。



It is a very simple recreational sport, using only a rope and saddle to climb. Once you get the hang of how to climb, anyone can easily do it and see the forest from the perspective of birds and animals.
利用繩索來爬樹,一個非常簡單的休閒運動。很容易掌握攀登技巧,還能看到的鳥類和動物視線的森林哦。
로프와 안장만 사용해 오르는 매우 간단한 레크리에이션 스포츠입니다. 요령만 파악하면 누구나 쉽게 나무에 오를 수 있고, 새를 비롯한 동물들의 시선으로 숲을 바라볼 수 있습니다.
営業期間

Hours of Operation

營業期間

营业日期

영업시간

2023年7月22日~2023年8月31日
22 Jul 2023 to 31 Aug 2023
2023年7月22日~2023年8月31日
2023年7月22日~2023年8月31日
2023년7월22일 ~ 2023년8월31일

時間

①10:00~11:00
②11:00~12:00
③13:00~14:00
④14:00~15:00
⑤15:00~16:00
⑥16:00~17:00

Time

①10:00 am - 11:00 am
②11:00 am - 12:00 am
③1:00 pm - 2:00 pm
④2:00 pm - 3:00 pm
⑤3:00 pm - 4:00 pm
⑥4:00 pm - 5:00 pm

時間

①10:00~11:00
②11:00~12:00
③13:00~14:00
④14:00~15:00
⑤15:00~16:00
⑥16:00~17:00

时间

①10:00~11:00
②11:00~12:00
③13:00~14:00
④14:00~15:00
⑤15:00~16:00
⑥16:00~17:00

시간

①10:00~11:00
②11:00~12:00
③13:00~14:00
④14:00~15:00
⑤15:00~16:00
⑥16:00~17:00

所要時間

約40分

Duration

40 minutes

所需時間

約40分鐘

所需时间

约40分钟

소요시간

약 30분

集合場所

開始10分前にGAOアウトドアセンターに集合

Meeting Area

Meet at the GAO Outdoor Center 10 minutes prior to the start time.

集合場地

開始前10分鐘請至GAO Outdoor Center集合

集合地点

活动开始前10分钟在GAO Outdoor Center集合

집합장소

개최 10분 전에 GAO 아웃도어 센터에 집합

開催地

星野リゾート トマム内

Location

Within Hoshino Resorts TOMAMU

舉辦地點

於星野度假村TOMAMU內

举办地点

星野度假村TOMAMU

체험장소

호시노 리조트 토마무

料金

大人 4,000円
子ども (5歳~12歳)4,000円

Price

Adult 4,000 yen
5 - 12 Years Old ¥4,000

費用

大人 ¥4,000
5歲~12歲 ¥4,000

费用

大人 ¥4,000
5歲~12歲 ¥4,000

요금

어른 4,000엔
5 - 12 세 4,000엔

対象

5歳以上(お子様のみのお申し込み時、大人の方の同伴推奨※料金不要)

*安全上の理由により、下記のお客様はご参加いただけません。ご了承ください。
・アルコールを摂取している方
・妊娠中の方
・プログラム中の安全確保にご協力いただけない方

Eligible Participants

Five years and up (recommended to be accompanied by an adult when applying for children only *no fee required)

*Due to safety concerns, the following guests cannot participate. We appreciate your understanding.
- Those who have consumed alcohol
- Those who are currently pregnant
- Those who do not cooperate with the program's safety measures

參加者限制

體驗者限制需滿5歲(兒童單獨體驗的話建議需有大人陪同※陪同者不需付費)

由於安全上的考量,以下人士謝絕參加。
・飲酒者
・懷孕者
・在體驗活動過程中會影響安全者

参加者

5岁以上(儿童单独参加活动时,建议大人陪同参加 ※可免费陪同)

대상

5세 이상 (참가자가 어린이 손님으로만 구성되어 있을 경우, 어른의 동반 참가를 권장합니다. ※요금 무료)

催行人数

各回最大8名
最少催行人数:2名

Number of Participants

Maximum 2 people per group
Minimum Number of Participants: 2 people

舉辦人數

1組最多8人
最少成行人數:2名

举办人数

1组最多8人
最少参加人数:2人

개최인원

그룹당 8명까지
최소 개최인원: 2명

催行会社

リトルトリー

予約

4月8日 WEB予約開始 (電話問い合わせ4月26日より) 

Reservation

Online reservations begin from April 8th (phone requests are available from April 26th)

預約

4月8日起開放網路預約(自4月26日起開放電話諮詢)

预约

4月8日起开放网上预约(4月26日开放电话咨询)

예약

4월 8일부터 온라인 예약 시작 (전화 문의는 4월 26일부터)

持ち物

動きやすく汚れても良い服装でお越しください。
スニーカーなど運動に適した靴(サンダル・クロックス不可)をご着用ください。

Things to bring

Please wear clothing that is easy to move in.
Please wear sneakers or other shoes suitable for exercise (no sandals or Crocs).

自備物品

請穿著用髒也沒關係的服裝前來參加。
如運動鞋等適合活動的鞋子(不可穿著涼鞋或橡膠布希鞋)。

自备物品

请穿方便活动不怕弄脏的衣服前来参加
请穿运动鞋或其他适合运动的鞋子(不可穿凉鞋・Crocs洞洞鞋)

준비물

움직이기 편하고 더러워져도 되는 복장으로 참가하여 주십시오.
운동화 등 운동에 적합한 신발을 착용해 주시기 바랍니다. (샌들 및 크록스로는 참가 불가)

備考

<キャンセル規定>
〜2日前 0%
前日17:00まで 50%
前日17:00以降・当日 100%

Important Note(s)

< Cancellation Policy >
2 days prior: No charge
Up to 5:00 pm, the day prior: 50%
After that: 100%
※Japan Time

備註

<取消規定>
活動前兩天無須支付費用
活動前一天的17點以前需支付50%
活動前一天的17點之後&活動當天需支付100%
※日本時間

备注

<取消政策> 活动举办两天前为止取消无需支付费用 活动前一天17:00之前取消需支付50%费用 活动前一天17:00之后及活动当天取消需支付100%费用

비고

<취소 규정> 2일 전까지는 취소 수수료 0% 1일 전 17시까지는 수수료 50% 1일 전 17시 이후, 혹은 당일 취소 수수료 100%