Open Period

from Apr 28 to Nov 1, 2022

Open Hours

15:00-23:00(Must enter by 22:00)

Entrance Fee

In House Guests

Free of Charge

Visitors

Adult 1 Day ¥900 / Child a Day ¥600
*There is no charge for children preschool age or younger.
*Please cover any and all tatoos when enteng the pool or bath.
Wide washing area, sauna and a relaxation space is also equipped at the Kirin-no Yu.
No need to bring towels or shampoos, we have them all here.
Body shampoo, Shampoo, Conditioner equipped.
No indoor bath at Kirin-no Yu.
Hot Spring Manners:How to bathe in a hot spring
*Kirin-no Yu is not a hot spring.
Aroma Relaxation Room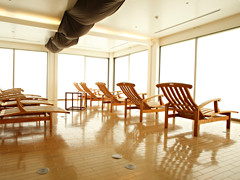 At the relaxation room inside the Kirin no Yu, we heat aroma oils that were extracted from the plants and trees of Hokkaido.