Status
10月5日 8:34 updated (Forecast for next morning is posted at 15:00)


悪天候(雷雲接近、強風)のため、安全を考慮し本日の黄葉ゴンドラを終日中止いたします。何卒ご了承くださいませ。明日の雲海予報は15:00までに発表いたします。
UNKAI TERRACE
An inspiring morning
in a dynamic sea of clouds
An observation facility allowing for close-up views of the dynamic passing sea of clouds only seen when weather conditions are met.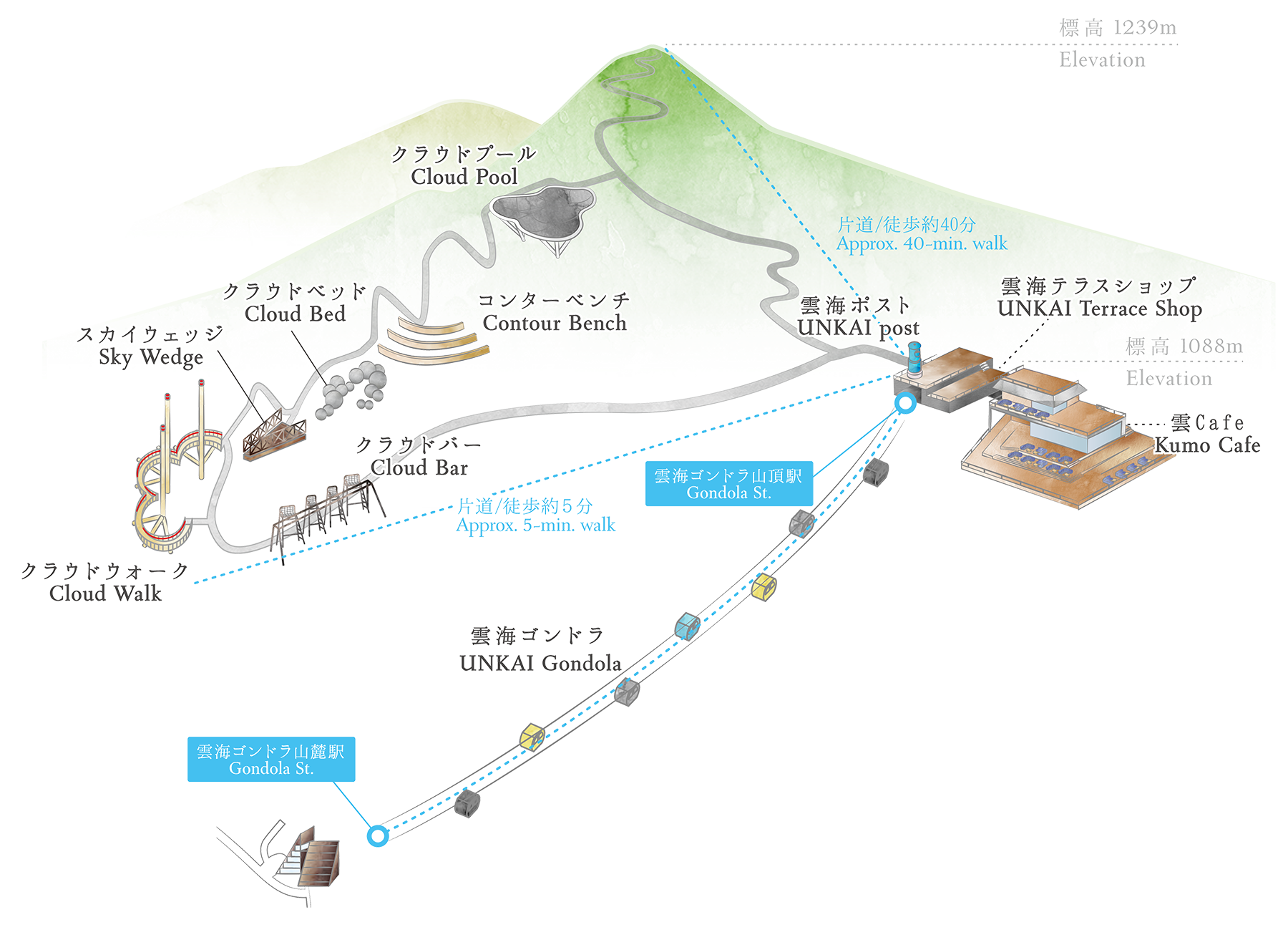 Facilities
A deck that projects into the sky,
bringing you close enough to feel the clouds
The sea of clouds crossing the mountains, covering all its surroundings, and spreading before your eyes is truly a heavenly sight.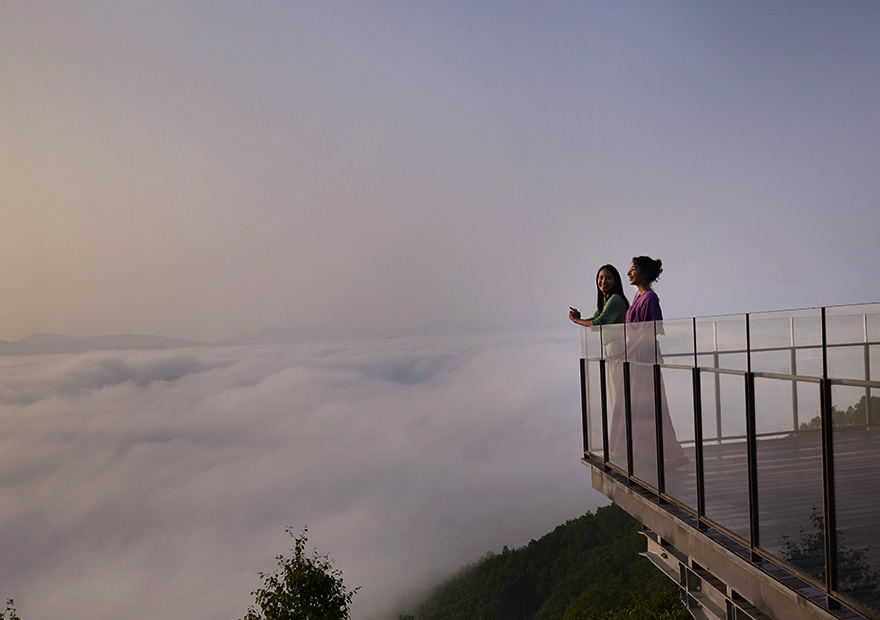 A three-story building
overlooking unparalleled nature
Look out over majestic nature from the top floor, such as the sea of clouds spreading far and wide, the Hidaka Mountain range, and the morning sun.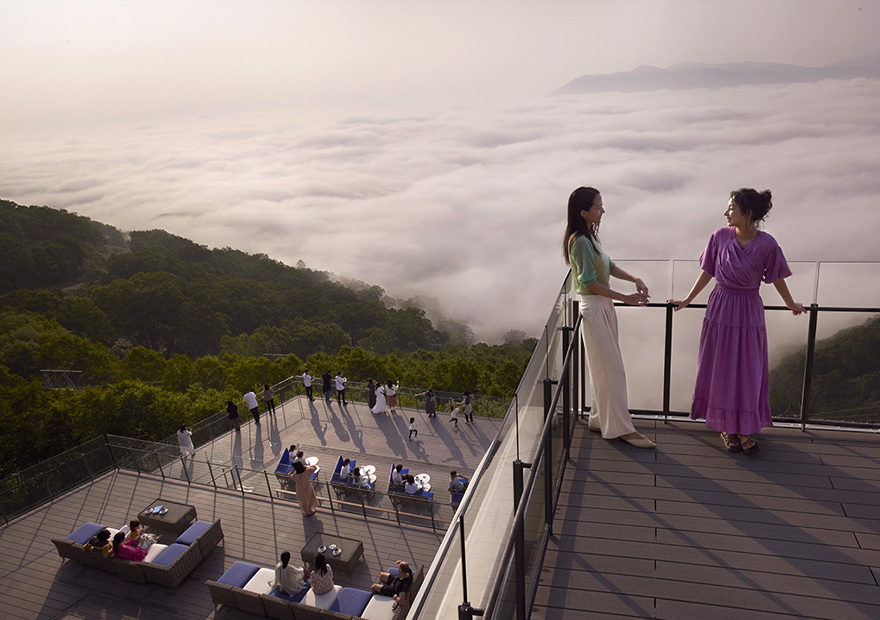 Spend your time gazing at breathtaking scenery from the KUMO Cafe
The KUMO Cafe sells cloud-themed sweets and drinks at an elevation of 1,088 meters.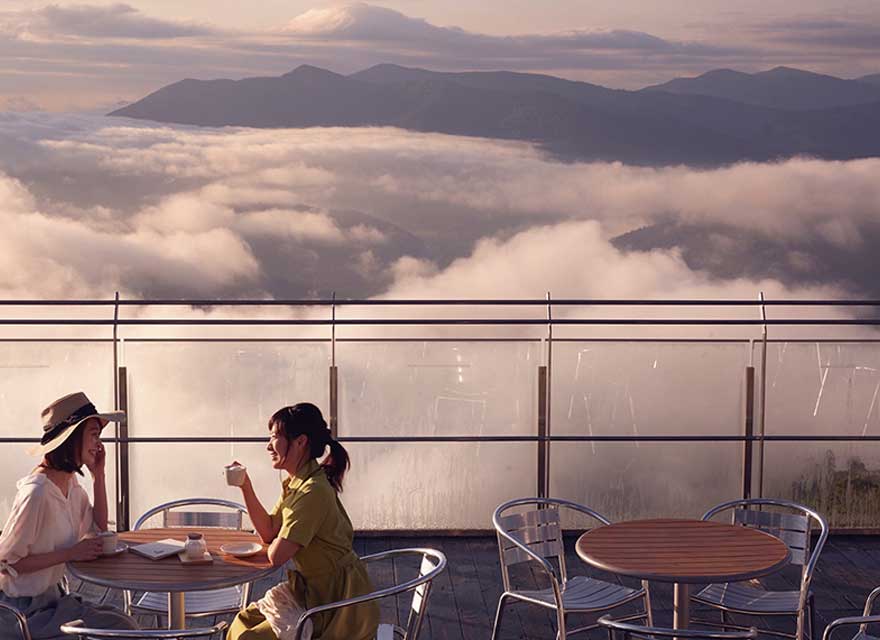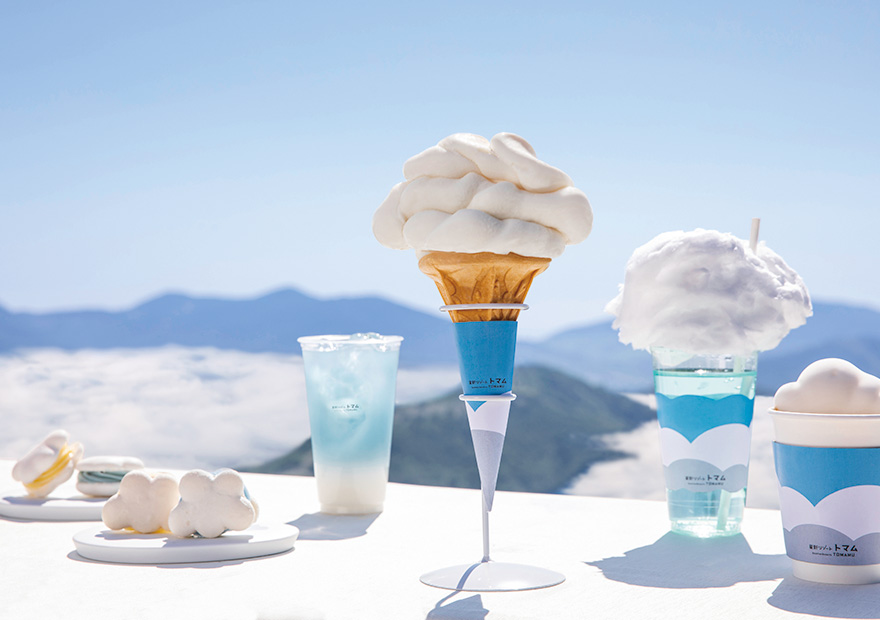 Cloud9
Enjoy various angles and different outlooks through six unique decks along the mountain trail.
"Cloud 9 Outlooks"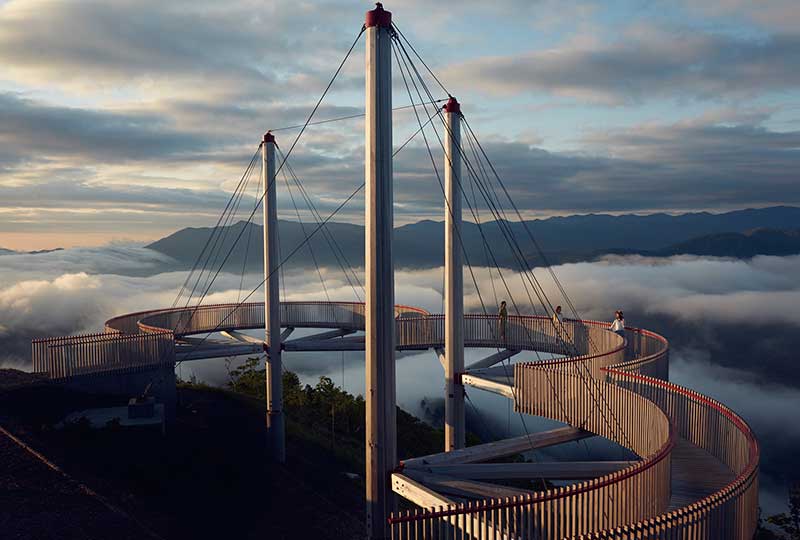 Cloud Walk
Get a taste of how it feels to walk above the clouds at an observation deck shaped like the clouds themselves. The deck extends from the surrounding land and looks over 210 degrees of grand scenery.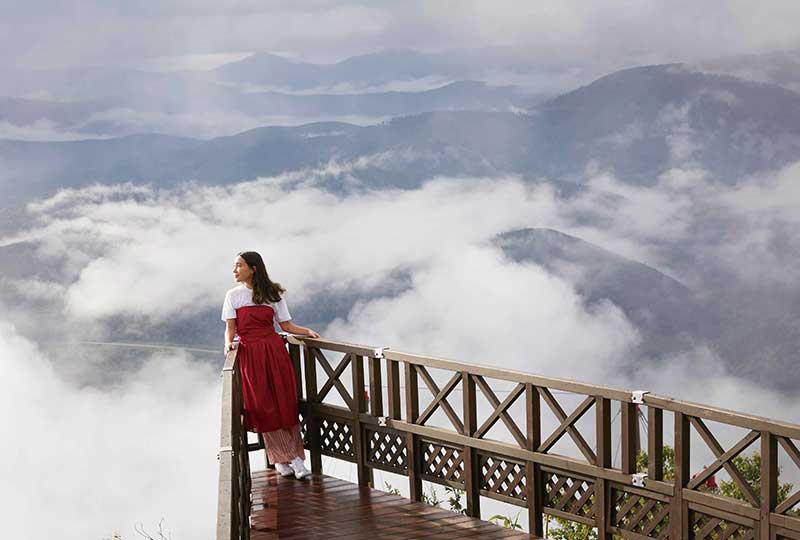 Sky Wedge
An observation spot reminiscent of the bow of a ship.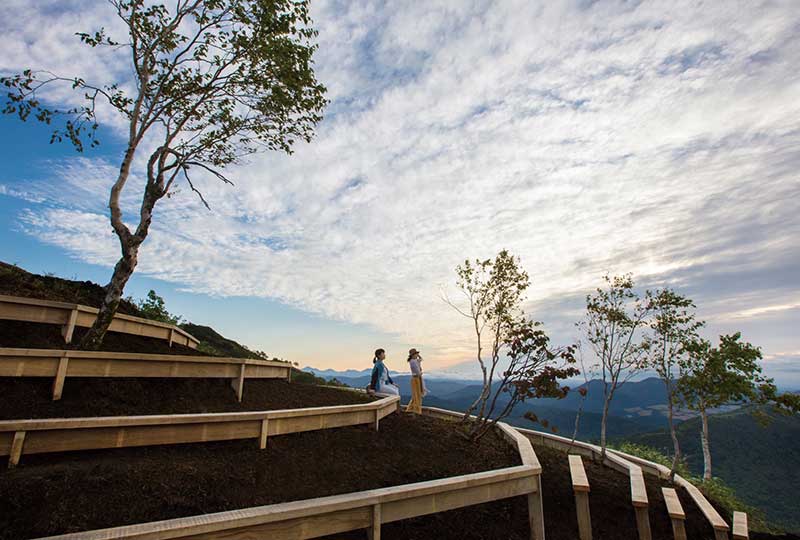 Contour Bench
A 117-meter-long bench with a design inspired by contour lines that make use of the land's natural features.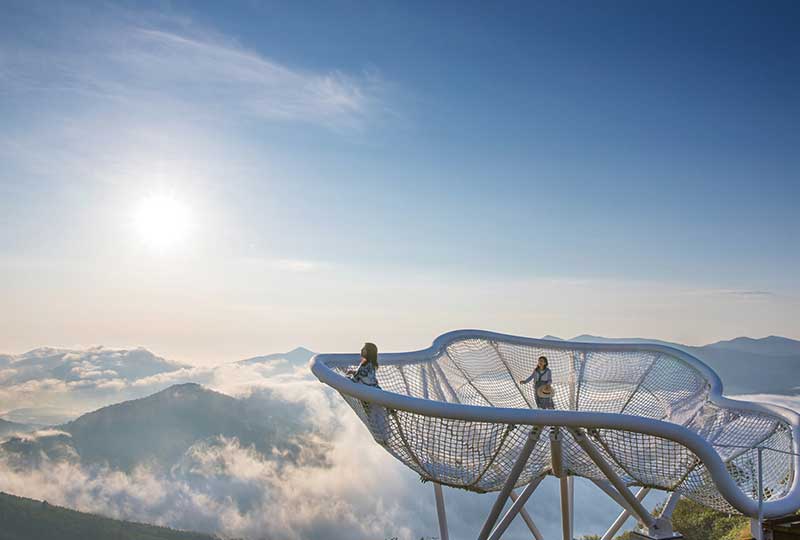 Cloud Pool
A spacious hammock-like observation spot that spans approximately 10 meters in both length and width.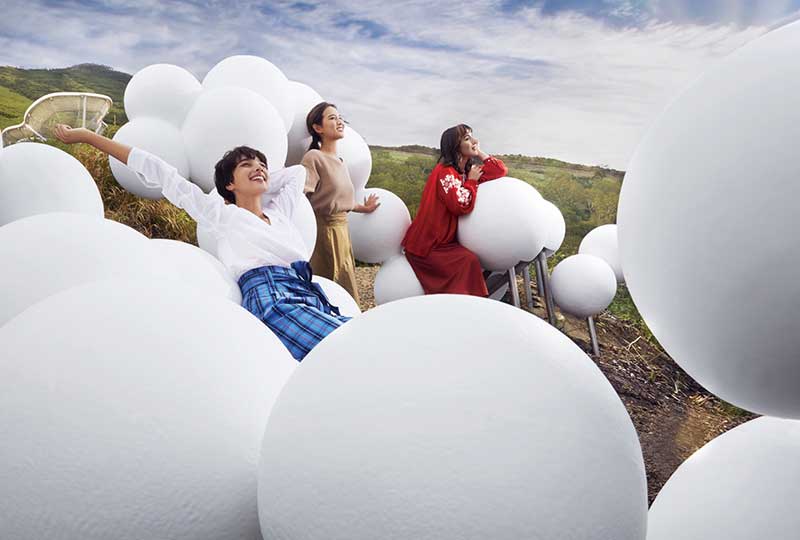 Cloud Bed
A 15-meter-long observation spot designed with cloud-forming "cloud seeds" in mind. Installed to resemble "cloud seeds" are elastic cushions with a diameter of 40-60 cm. Said cushions were developed by the interior design brand "sixinch" and are composed of polyurethane foam with a special coating.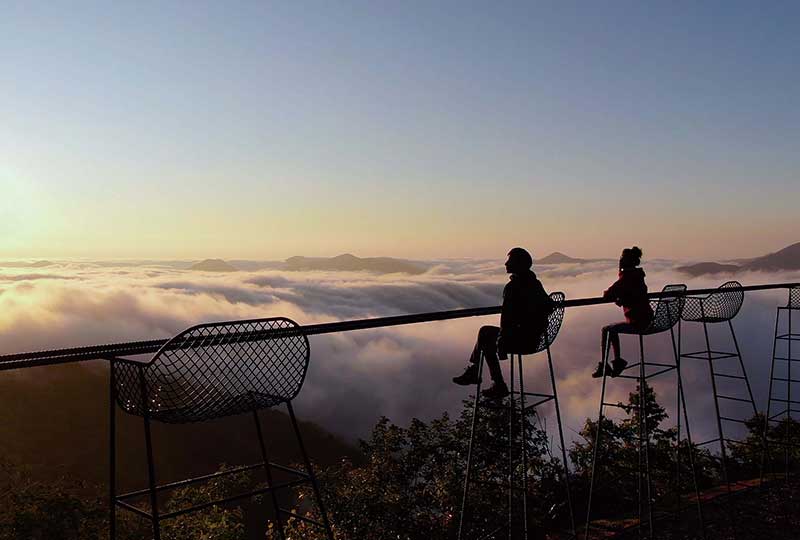 Cloud Bar
Designed to resemble a bar counter, this observation spot offers superb views.
Activities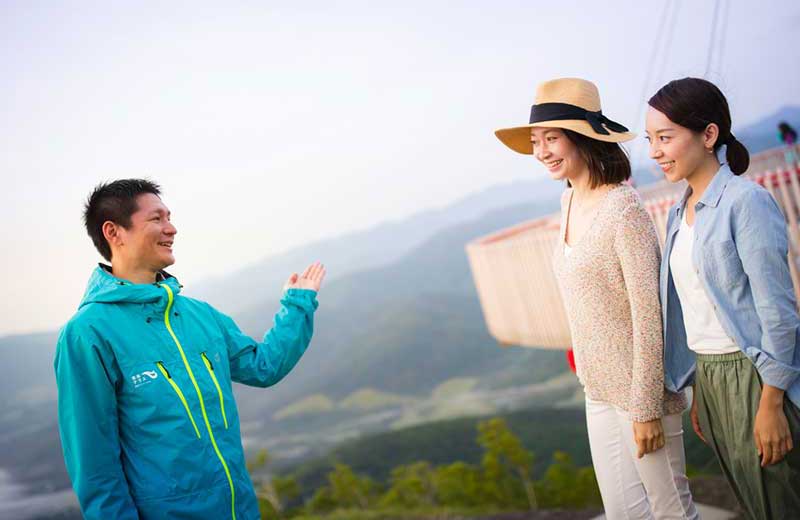 UNKAI TERRACE

UNKAI Guide

Join us for explanations regarding the day's visibility and cloud formation.
| | |
| --- | --- |
| Period | May 11 - October 16, 2023 |
| Hours of Operation | Two to three times per day, depending on weather conditions |
| Duration | 10 - 20 minutes |
| Location | UNKAI TERRACE Deck E |
| Fee(s) | Free |
| Important Note(s) | *Some timeslots may be reserved for private parties. |
CLOSE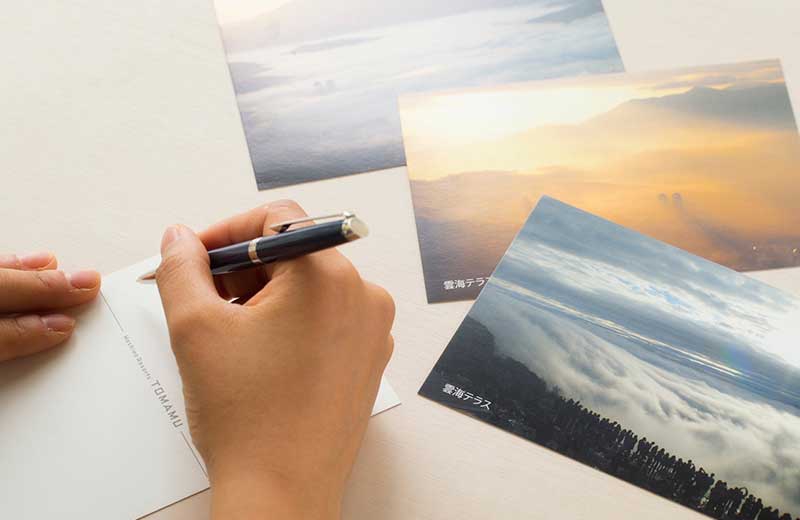 UNKAI TERRACE

UNKAI TERRACE Shop

A souvenir shop with UNKAI postcards and other goods related to the UNKAI TERRACE. You can send the postcards worldwide from the "UNKAI Post" — without even using a stamp.
Period
May 11 - October 16, 2023
Location
At the peak as soon as you get off the UNKAI Gondola
Hours of Operation
5:00 - 8:30 am
Hours of operation may change.
CLOSE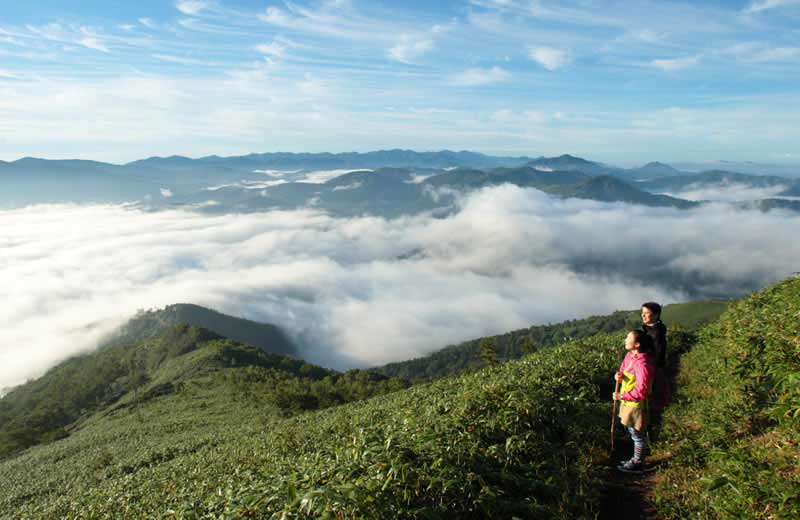 UNKAI TERRACE

Tomamu Mountain Climbing

A 40-minute one-way hiking trail from the UNKAI Gondola Upper Station to Mt. Tomamu's peak.
Period
Mid-June - Mid-October 2023
Depends upon snow accumulation and snow melt.
Hours of Operation
From the time the UNKAI TERRACE opens until 7:00 am (last entry)
Duration
Approximately 40 minutes one way
Location
From the mountain hiking entrance near UNKAI TERRACE's Cloud pool to Mt. Tomamu's peak.
Fee(s)
Free
Important Note(s)
Clothing: Clothing and equipment suitable for light hiking.
A Hiking Notification Form must be filled out at the entrance.
CLOSE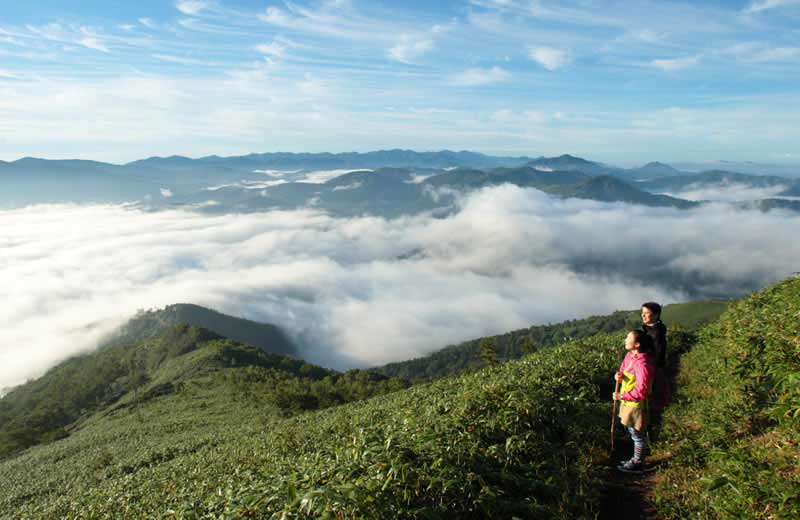 UNKAI TERRACE

Sunrise Gondola

Enjoy the sunrise over the Hidaka Mountain Range.
Period
September 1 - September 30, 2023
Duration
Starts from 4:30 am
Fee(s)
UNKAI Gondola Fee(s)
Free for those staying at RISONARE Tomamu or Tomamu The Tower.
CLOSE
Period
11 May - 16 October 2023
Hours of Operation
[May 11th - May 31st] 5:00 am - 7:00 am
[June 1st - Aug 31st] 5:00 am - 7:00 am
[Sep 1st - Sep 30th] 4:30 am - 8:00 am
[Oct 1st - Oct 16th] 5:00 am - 8:00 am
Access
[Overnight Guests]
A shuttle bus service runs from Tomamu The Tower and RISONARE Tomamu.

[For Non-Overnight Guests]
Please proceed to the "Resort Center."
Important Note(s)
[Regarding Photography and Recording for Business Purposes]
Photography and recording for business purposes within the facilities are prohibited without permission from the facility in question. Photography and recording for personal use that is, in turn, used for business purposes are also prohibited without permission.

[Procedures for Accessing the UNKAI TERRACE]
The UNKAI TERRACE is not accessible on foot or by car.
When heading to the UNKAI TERRACE, please utilize the UNKAI Gondola from the foot of the mountain.
The UNKAI Gondola may cease operations in the case of inclement weather conditions.
Unkai Gondola
Fee
[For Non-Overnight Guests]- Adults: 1,900 yen
- Children ages 7-11: 1,200 yen
Pets: 500 yen

Tickets for the gondola can be purchased at the "Ticket Information" counter located inside the Resort Center.
Please place pets in a carrier.

[Discounts for People with Disabilities]
- Adults: 1,520 yen
- Children ages 7-11: 960 yen

*Applicable for those with "disability passbooks" and for up to one caregiver.

[UNKAI Season Pass]
- Adults: 5,000 yen
- Children ages 7-11: 3,000 yen
- Pets: 1,000 yen
(With a profile photo taken on-site)

Important Note

*Children 6 years and under are free of charge
Can be used for unlimited rides on the day of purchase.

Information Concerning Transport Safety
Publically disclosed in accordance with Article 19, Paragraph 4 of the Railway Business Act.
History of the UNKAI TERRACE
"If only our guests could see this view..."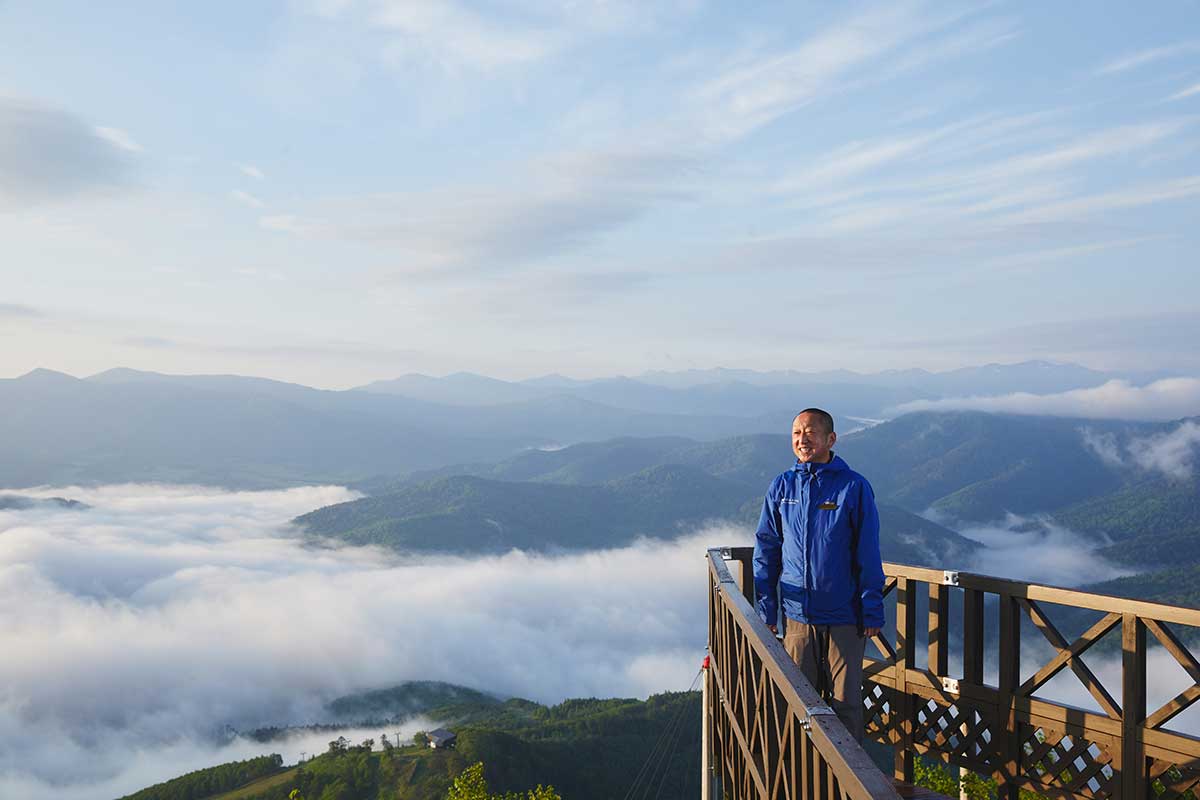 One morning during the early summer of 2005, we were conducting maintenance on the gondola nearby the mountain peak at our ski resort. It was then that we noticed a sea of clouds spreading right under our eyes.
Despite it being such a grand spectacle, for the staff it was a familiar scene. Ordinarily, it may have only received a fleeting glance, but on that day, we thought of the joy it would bring to our guests.
"If only our guests could see this view... Imagine, being able to come here, and then relaxing with a cup of coffee..."
When you look at a sea of clouds from below, they simply look like clouds hanging above. However, when viewed from above the clouds themselves, their beauty is easily recognizable.
Some questioned whether guests would travel to the peak to view the cloudy skies, but most of the staff supported the idea.
From that day, talks about a plan to allow guests to "drink coffee while they gaze at the sea of clouds" were quickly in the works. At last, they came to "making a morning cafe near the gondola's upper station." In order to solve the problem of early preparations and those unaccustomed to serving guests, discussions continued for around two months.
Birth of the UNKAI TERRACE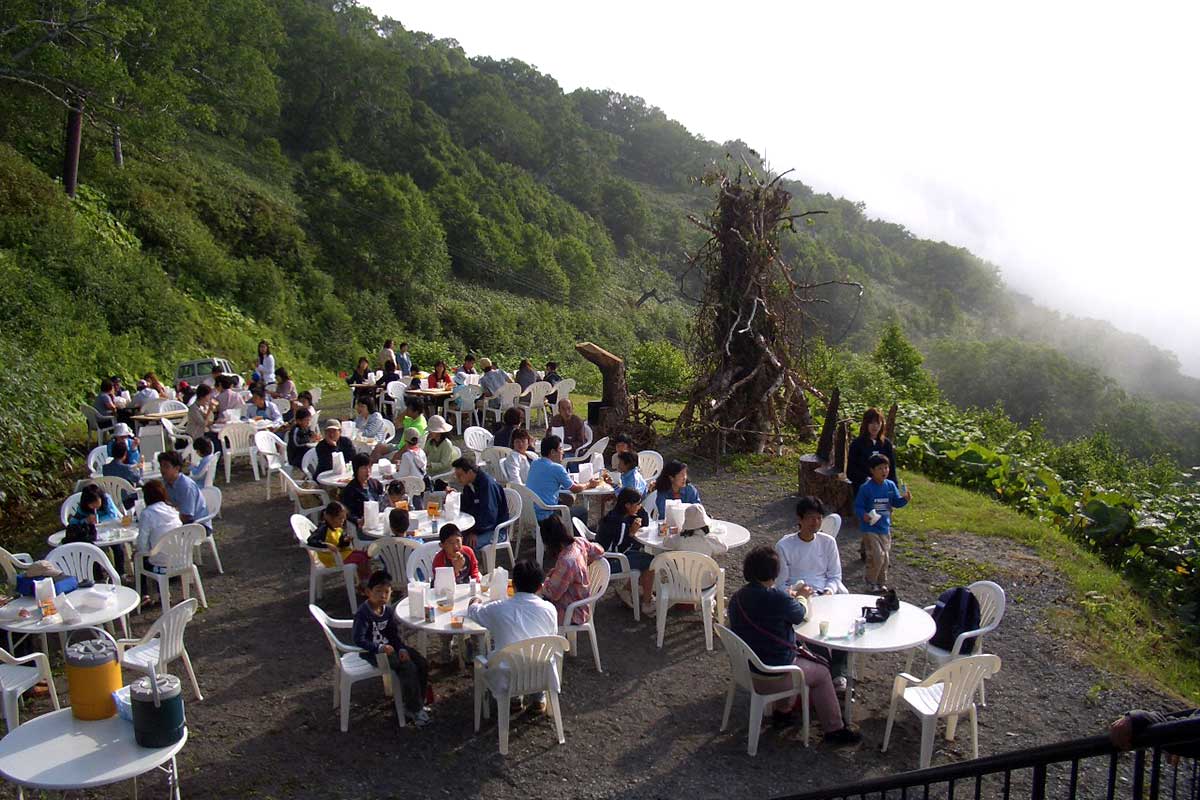 Thus, the test run of the cafe set to become the UNKAI Terrace began in the summer of 2005.
Even though it was called a "cafe," it was a simple configuration of tables and chairs lined up in a small, open space. The seven people, normally in charge of the gondola's maintenance, were inexperienced when it came to working as a server in a cafe and anxiously wondered if guests would visit that early in the morning.
However, no worries were needed as guests came, one after another. And with each new face, the seven staff members were so elated they practically leaped for joy.
There was no sea of clouds on the first day, but our guests were moved by the cool morning air and the majestic sights of Tomamu. Although there were mistakes made, the guests beamed with satisfaction, and that made us happier than anything.
Within two months, approximately 900 people visited, and the test run was declared a huge success.
Taking the results into consideration, along with feedback from guests, the development of a full-blown terrace was decided. The following year in 2006, the official UNKAI TERRACE opened.
With special services offered from spring to fall (periods in which UNKAI easily form), approximately 17,000 people came to visit, making the plan quite popular and a great success.
UNKAI Forecast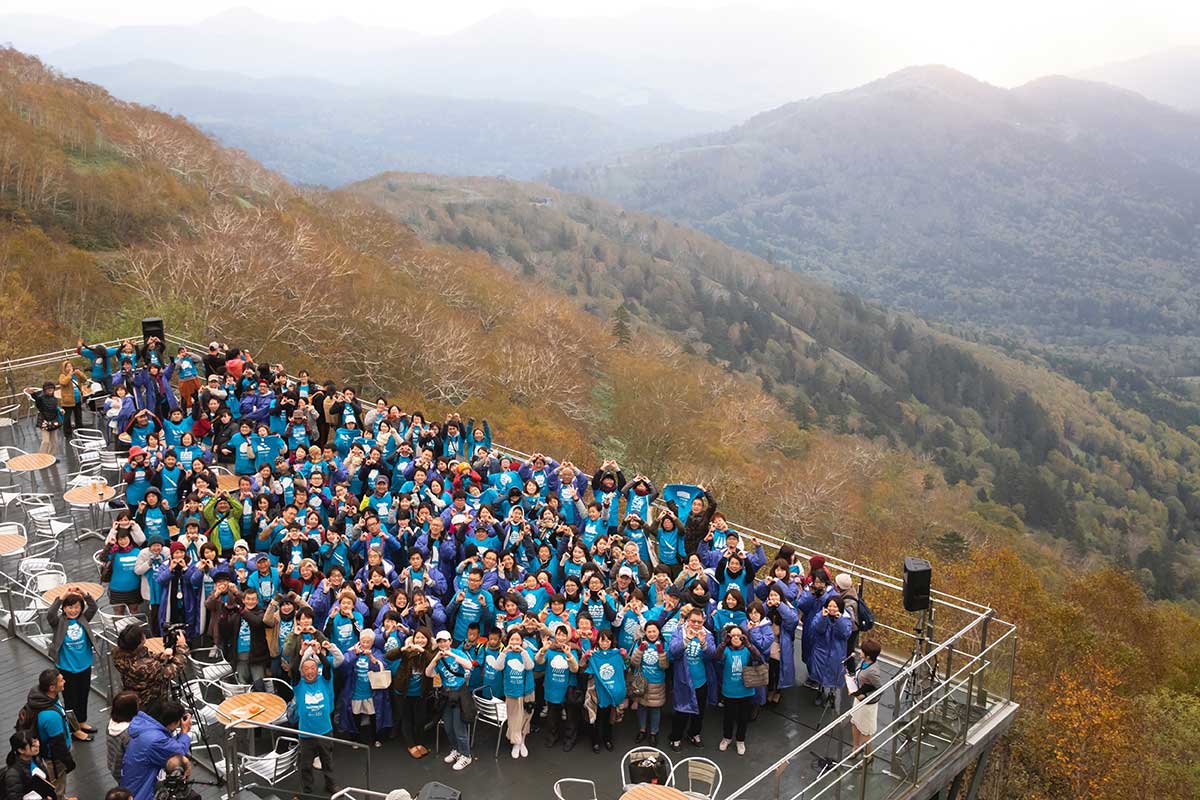 After realizing the charms of the service they had created, the seven continued to think about what kind of service would be appropriate for Hoshino Resorts TOMAMU. With that, various ideas came to fruition.
The "UNKAI Forecast" was one of them.
The sea of clouds is not a phenomenon that you can see every day. By combining weather information such as temperature, humidity, wind direction, and speed with a rule of thumb that says, "If clouds appear in a certain direction in the afternoon, it will be cold the next morning, and then Tomamu is more likely to have a sea of clouds," we have created our own UNKAI forecast, which predicts the probability of cloud seas occurring. The probability of a sea of clouds occurring during the season is about 40%.
There were some within the company who wondered, "Isn't it a bit strange to give a probability for a service that we don't know if we can or cannot provide," but once it opened, customers looked forward to the UNKAI Forecast and never raised a complaint.
Then working in collaboration with other departments, it allowed the daily UNKAI and gondola status to be broadcast on our homepage, guest's TVs, and more.
CLOSE
Types of UNKAI
During the season, the probability of seeing the UNKAI is around 40% in the early morning.
Here are the different types of UNKAI you can see here at TOMAMU, along with the conditions needed to form them.
Dynamic Movements Unique to TOMAMU
Pacific Ocean UNKAI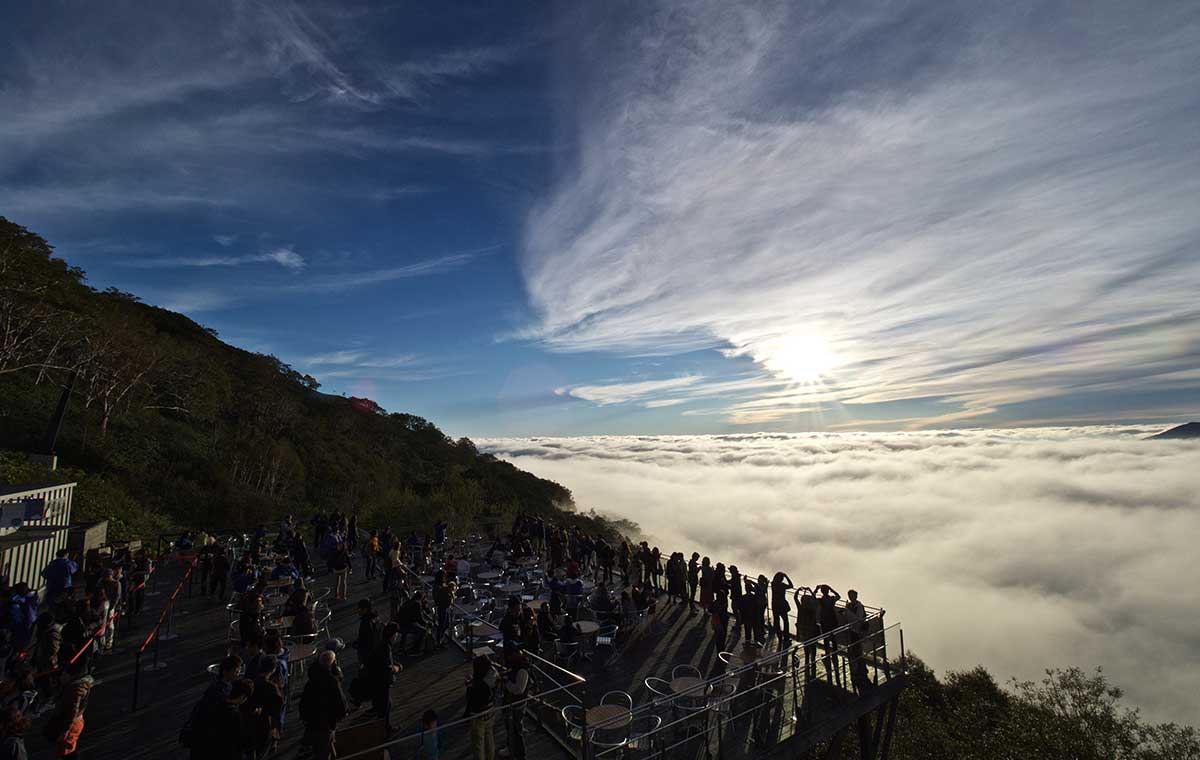 When low seawater temperatures in Tokachi and Kushiro-oki are met with warm air from the south that was in turned caused by the Pacific Ocean's high atmospheric pressure, low level clouds form over a vast area. These clouds then travel with the southeastern winds, covering the Tokachi Plains, crossing the Hidaka Mountains, and then arriving in Tomamu. These UNKAI that resemble waterfalls are scarce as they can only be seen when extremely rare conditions are met. The fact that you cannot always see them is what makes it such a priceless phenomenon.
Favorable Conditions for Pacific Ocean UNKAI

- When eastern Hokkaido experiences high atmospheric pressure
- When eastern and southeastern winds blow toward the Tomamu area
- When it is less windy throughout the previous night until dawn
An Impactful Hotel Extending Above the Clouds
Tomamu Unkai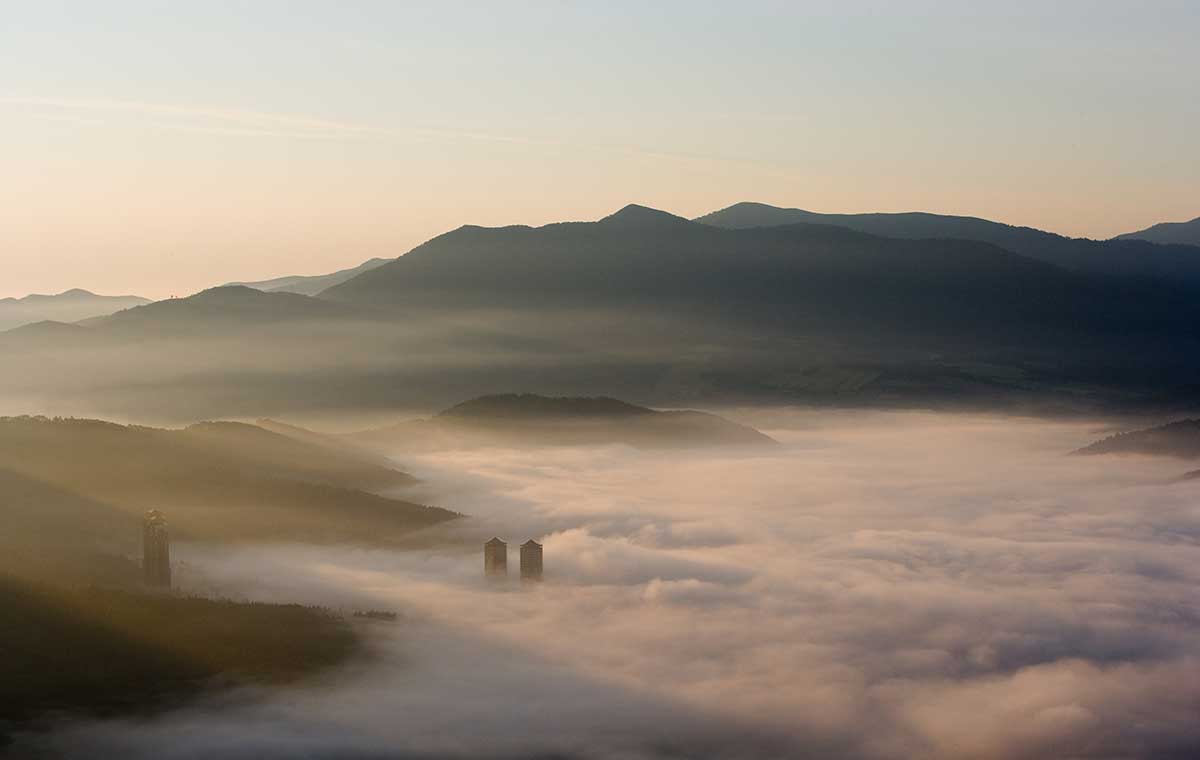 UNKAI that are formed through a process known as radiative cooling. On clear nights with little wind, heat escapes into the atmosphere, and the then-cooled air accumulates in the basin-like terrain.
Favorable Conditions for Tomamu UNKAI

- When the Tomamu area experiences high atmospheric pressure and the early mornings are clear
- When it is less windy throughout the previous night until dawn
- When the early morning temperatures drastically drop
Poor Weather Presents the Best Opportunity to View Them
UNKAI During Inclement Weather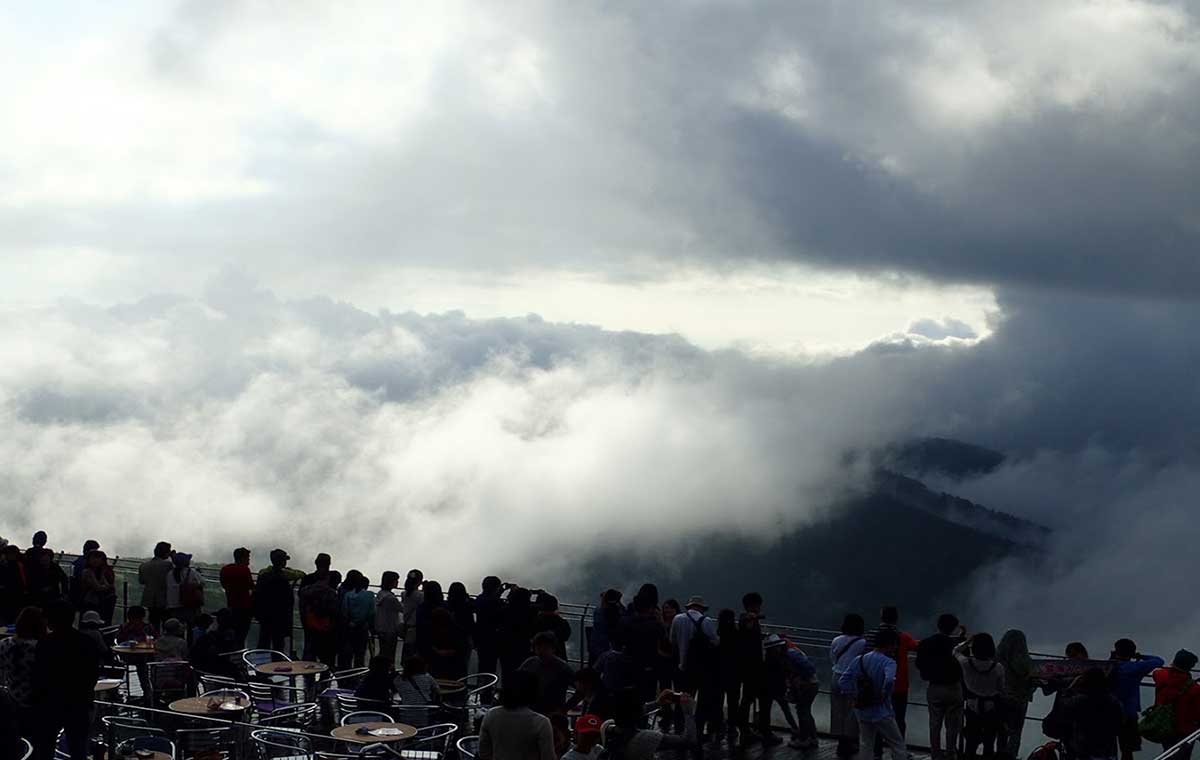 UNKAI that are formed during inclement weather or when the weather worsens. Stratus clouds that surround the mountains (which can be seen from UNKAI TERRACE) spread and become a sea of clouds. You'll also find clouds forming above it as well.
Favorable Conditions for UNKAI During Inclement Weather

- When low atmospheric pressure is approaching
- When the weather is forecasted to worsen
- During inclement weather
CLOSE
Weather on the UNKAI TERRACE
| | May | Jun | Jul | Aug | Sep | Oct |
| --- | --- | --- | --- | --- | --- | --- |
| Lowest Temperature (Average) | 5℃ | 7℃ | 12℃ | 14℃ | 9℃ | 4℃ |
UNKAI TERRACE
Clothing Recommendations
May - June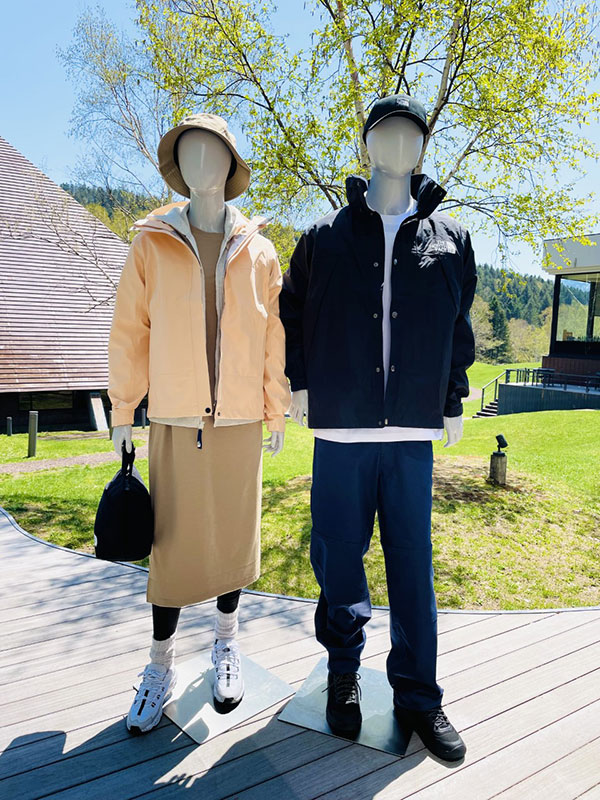 As early morning temperatures are in the single digits, we recommend a jacket or coat wind cannot penetrate.
July - August
Even during summer, there are days when temperatures fall below 10℃ at the UNKAI TERRACE's opening time. Please prepare warm clothing.
We recommend sunglasses and a hat to protect from the strong rays of sun at the summit.
September - October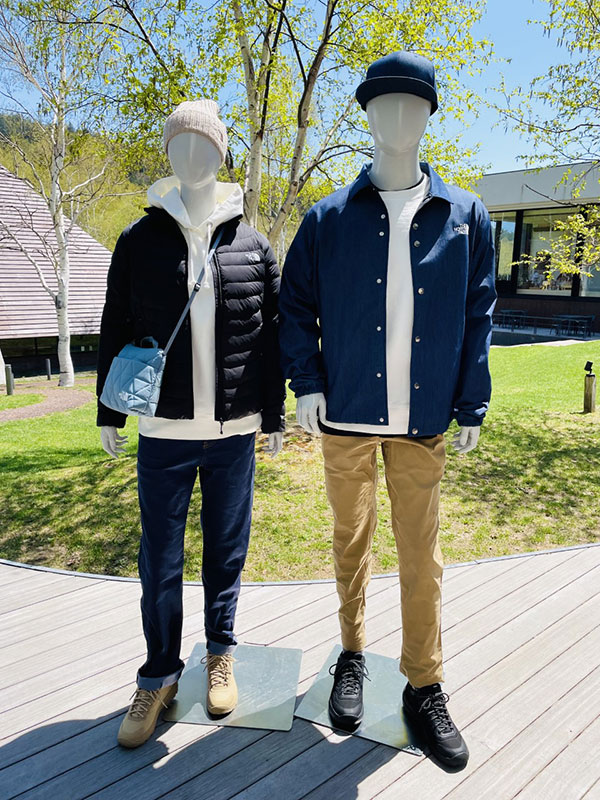 Similar to May and June, average temperatures are in the single digits during October and snowfall can be seen on Mt. Tomamu's peak. We recommend bringing warm winter clothing.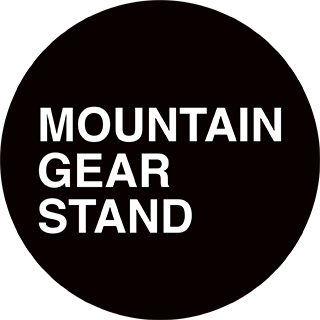 MOUNTAIN GEAR STAND
OPEN 10:00 CLOSE 19:00
CLOSE