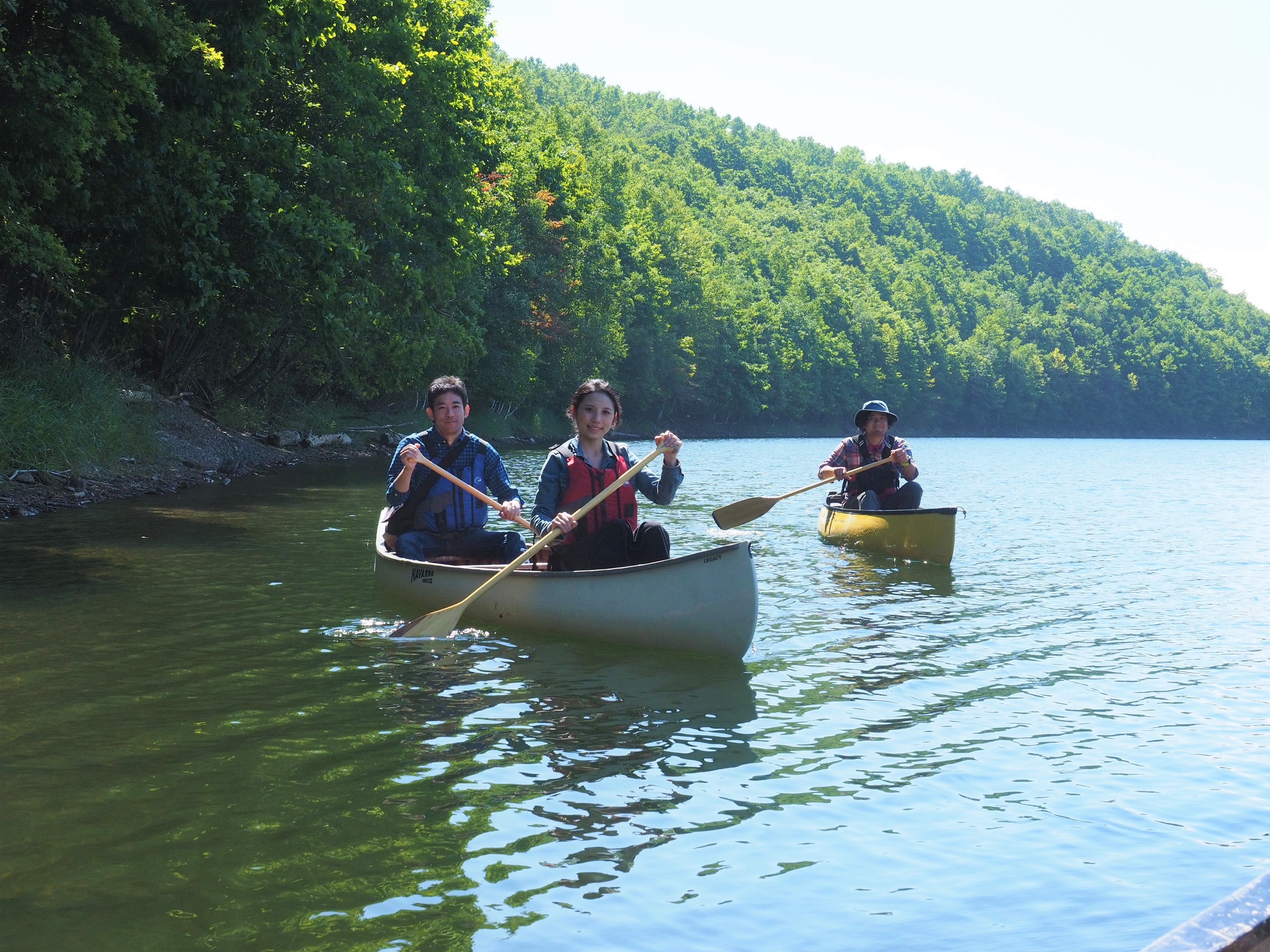 新緑が芽生える春から初夏にかけての穏やかなカヌーピクニック。湖畔でのティータイムではカヌーピクニック限定の手作りおやつを楽しみます。



A peaceful canoe picnic in spring and early summer when fresh greenery is sprouting. During tea time by the lake, enjoy homemade snacks made exclusively for the canoe picnic.
從新綠萌發的春天到初夏,悠閒的獨木舟郊遊。在湖畔的下午茶時間享受獨木舟野餐限定的手工點心。
从新绿萌发的春天到初夏,悠闲的皮划艇郊游。在湖畔的下午茶时间享受皮划艇野餐限定的手工点心。
신록이 싹트는 봄부터 초여름에 걸쳐 실시되는 평화로운 카누 피크닉. 호반에서 티타임을 즐기신다면 카누 피크닉 한정 수제 푸드를 맛보시기 바랍니다.
営業期間

Hours of Operation

營業期間

营业日期

영업시간

2023年4月29日~2023年6月30日
29 Apr 2023 to 30 Jun 2023
2023年4月29日~2023年6月30日
2023年4月29日~2023年6月30日
2023년4월29일 ~ 2023년6월30일

時間

8:45~11:45/13:45~16:45

Time

8:45 am - 11:45am / 1:45 pm - 4:45 pm

時間

8:45~11:45/13:45~16:45

时间

8:45~11:45/13:45~16:45

시간

8:45~11:45/13:45~16:45

所要時間

3時間(プログラム体験時間 約1時間)

Duration

3 hours (Experience Time: 1 hour)

所需時間

3小時(活動體驗時間1小時)

所需时间

3小時(活动体验时间1小时)

소요시간

3시간 (프로그램 체험 시간 약 1시간)

集合場所

開始10分前にGAOアウトドアセンターに集合

Meeting Area

Meet at the GAO Outdoor Center 10 minutes prior to the start time.

集合場地

開始前10分鐘請至GAO Outdoor Center集合

集合地点

活动开始前10分钟在GAO Outdoor Center集合

집합장소

개최 10분 전에 GAO 아웃도어 센터에 집합

開催地

サホロ湖
※トマムから送迎(片道約40分)

Location

Lake Sahoro
*40 minutes transportation service from Tomamu

舉辦地點

Lake Sahoro
※從Tomamu單趟大約40分鐘車程

举办地点

Lake Sahoro
※从Tomamu有免费巴士接送(单程约40分钟)

체험장소

Lake Sahoro
※토마무에서 픽업&드롭 오프 (편도 약 40분)

料金

大人 7,000円
子ども(2歳~12歳) 6,000円
※Web予約なら上記料金よりも500円お得です

Price

Adult 7,000 yen
2 - 12 Years Old 6,000 yen
*If you reserve online, a 500 yen discount will be taken from the listed price

費用

大人 ¥7,000
2歲~12歲 ¥6,000
※從網路預約的話費用則比上方費用優惠500日圓

费用

大人 ¥7,000
2岁~12岁 ¥6,000
※网上预约可以比上方费用优惠500日元

요금

어른 7,000 엔
2 - 12 세 6,000 엔
※온라인으로 예약하시면 상기 금액에서 500엔 할인됩니다.

対象

2歳以上
お子様のみでの参加はできません。

*安全上の理由により、下記のお客様はご参加いただけません。ご了承ください。
・アルコールを摂取している方
・妊娠中の方
・プログラム中の安全確保にご協力いただけない方

Eligible Participants

2 years and up
Children must be accompanied by an adult in order to participate.

*Due to safety concerns, the following guests cannot partipate. We appreciate your understanding.
- Those who have consumed alcohol
- Those who are currently pregnant
- Those who do not cooperate with the program's safety measures

參加者限制

2歳以上
孩童無法單獨參加本體驗活動

由於安全上的考量,以下人士謝絕參加。
・飲酒者
・懷孕者
・在體驗活動過程中會影響安全者

参加者

2岁以上
儿童不可单独参加

대상

2세 이상
어린이 손님은 보호자 동반 없이 참가할 수 없습니다.

催行人数

14名
最少催行人数:2名

Number of Participants

14 people
Minimum Number of Participants: 2 people

舉辦人數

14名
最少成行人數:2名

举办人数

14人
最少参加人数:2人

개최인원

14명
최소 개최인원: 2명

催行会社

リトルトリー

予約

4月8日 WEB予約開始 (電話問い合わせ4月26日より) 

Reservation

Online reservations begin from April 8th (phone requests are available from April 26th) 

預約

4月8日起開放網路預約(自4月26日起開放電話諮詢) 

预约

4月8日起开放网上预约(4月26日开放电话咨询)

예약

4월 8일부터 온라인 예약 시작 (전화 문의는 4월 26일부터)

持ち物

動きやすい服装でお越しください。
足元が濡れることもございますので、
サンダルやリバーシューズの着用をオススメしております。
(希望者には貸出がございます)
湖面は日陰が無く風通しも良いです。
帽子や体温調節が可能な上着をご持参ください。

Things to bring

Please wear clothing that is easy to move in.
Please wear sandals or water shoes (they can also be rented).
Please bring a hat and a jacket as there is no shade on the lake, and the wind is strong.

自備物品

請穿著方便活動的服裝前來。
請穿著涼鞋或溯溪鞋(提供借用)
湖面上無遮蔽且風大,請攜帶帽子以及外套。

自备物品

请穿方便活动的舒适服装前来。
请穿凉鞋或海洋鞋(可租借)。
因湖面无遮蔽且风大,请携带帽子和外套。

준비물

움직이기 편한 복장으로 참가해 주십시오.
발이 젖을 수 있으니 샌들이나 리버슈즈 착용을 추천합니다. (대여도 가능합니다.)
호수면은 그늘이 없고 개방된 공간이라 바람도 잘 붑니다.
모자나 체온 조절이 가능한 겉옷을 지참해 주십시오.

備考

<キャンセル規定>
〜2日前 0%
前日17:00まで 50%
前日17:00以降・当日 100%

Important Note(s)

< Cancellation Policy >
2 days prior: No charge
Up to 5:00 pm, the day prior: 50%
After that: 100%
※Japan Time

備註

<取消規定>
活動前兩天無須支付費用
活動前一天的17點以前需支付50%
活動前一天的17點之後&活動當天需支付100%
※日本時間

备注

<取消政策> 活动举办两天前为止取消无需支付费用 活动前一天17:00之前取消需支付50%费用 活动前一天17:00之后及活动当天取消需支付100%费用

비고

<취소 규정> 2일 전까지는 취소 수수료 0% 1일 전 17시까지는 수수료 50% 1일 전 17시 이후, 혹은 당일 취소 수수료 100%