Reception place

The Tower Ⅱ second flower GAO Nursery counter

Period

Dec 1, 2020 - April 3, 20214

Open Time

8:30 am - 19:00 pm (Last Reception 17:00 pm)

Company

Baby & Kids care service SHITTAN

Reservation

0167-38-2113 extension 6750

Reception time

9:00 am - 17:00 pm
※「Indoor Nursery & Snow Play 」is by appointment only
Indoor Nursery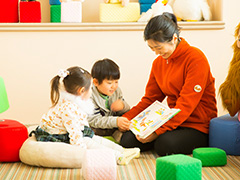 The reservation for Nursery will be available from 2 hours (for minimum). You may use the service while you have a lesson or rental.
We also recommend to the parents who would like to relax or have dinner during the nursery.
The professional staff will take care of your child with safety.
Age

2 months - 6 years old

Time

8:30 am - 19:00 pm (Last Reception 17:00 pm)

Required Time

from 2 hours

Price

2 hours 6,000 JPN yen
※ Extension every 30 minutes 1,500 JPN yen

Capacity

15 kids

Personal Effects

Diaper, baby wipe, Change of clothes, unopened snack, unopened drink. If Nursery time between 12:00 pm to 13:00 pm - baby food (the baby less than 2 moths) and kid's lunch.
Option
Much Snow Play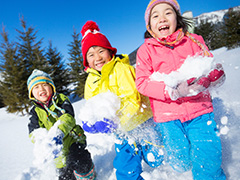 If your child wants to play outdoor, we have an option for you!
This Nursery offers snow playing, sled playing, and so on.
※ Include 60 minutes of outdoor snow playing time within 2 hours Nursery
Age

2 years old - 8 years old

Time

9:00 am - 16:00 pm

Required Time

60 minutes

Price

1,500 JPN yen

Capacity

5 kids
Indoor Nippo craft room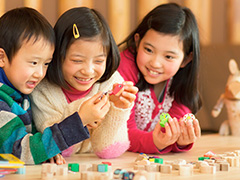 Let's paint your favorite color to the wood by using the poster color, and make your original key holder!
※ Include 60 minutes class within 2 hours nursery
Age

2 years old - 8 years old

Time

15:00 pm - 16:00 pm

Required Time

60 minutes

Price

1,500 JPN yen

Capacity

10 kids
Phone number 0167-38-2113
Extension number 6750