Mina-Mina Beach
With the indoor temperature being kept over 30°C, summer never ends at Mina-Mina Beach.
An indoor beach equipped with Japan's largest wave pool, measuring 30m x 80m.
The Green Season closed on November 1, 2023.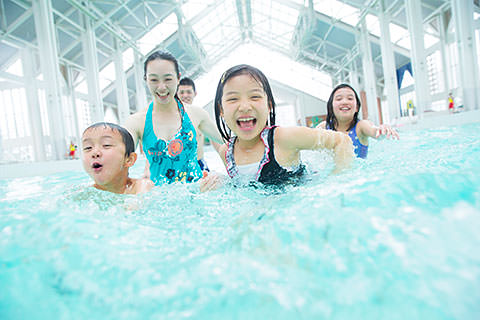 Wave Pool
Experience the largest wave pool in Japan, measuring 30m x 80m! Enjoy both parallel waves and slightly bigger rough waves during designated times.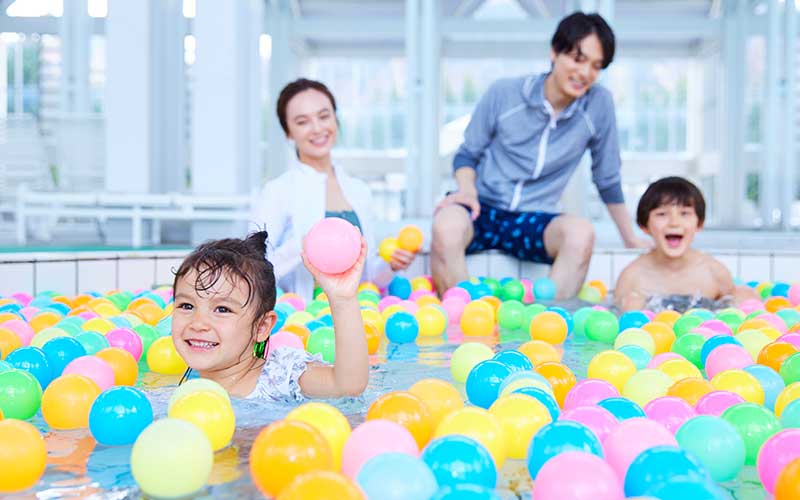 Kids Pool
A children's pool with a depth of 30 cm, which is great for first-time pool play.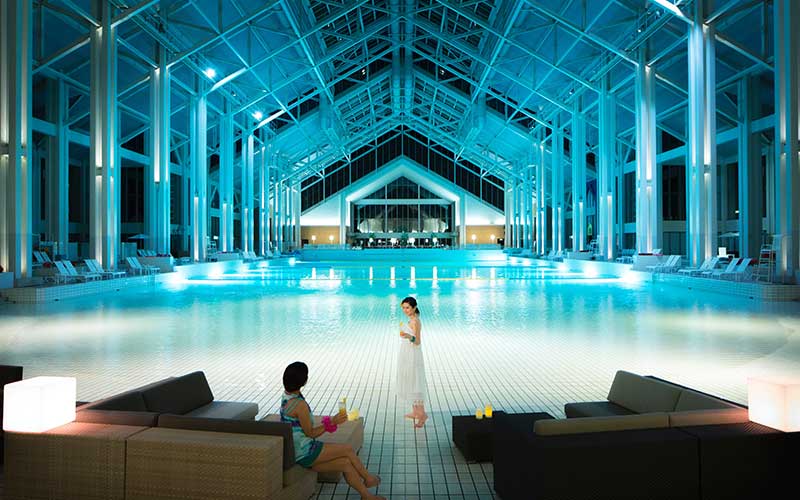 Evening Light Up
After 8:00 pm, Mina-Mina Beach is lit up, creating an elegant atmosphere different from the lively daytime. Free admission for guests.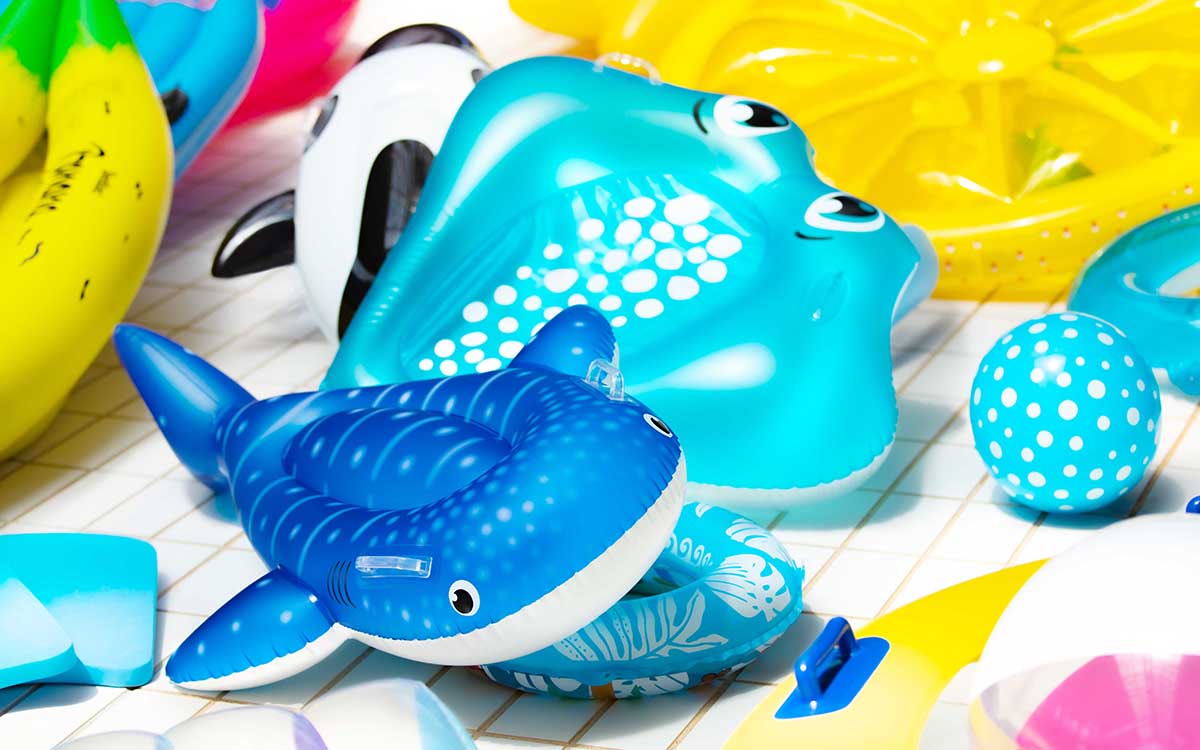 Rental items

Size
Fee
Male Swimsuit
Waist Size
M(76~84cm)
L(84~94cm)
LL(94~104cm)
3L(104~115cm)
4L(115cm)
1,100 yen
Female Swimsuit
(Bust / Hip Size)
No.7(72~80cm / 82~90cm)
No.9(83cm / 87~95cm)
No.11(86cm / 92~100cm)
No.13(89cm / 92~100cm)
No.15(92cm / 97~105cm)
1,100 yen
bikini
No.9(83cm / 87~95cm)
No.11(86cm / 92~100cm)
1,600 yen
Boy Swimsuit
(Height)
100(95~105cm)
110(105~115cm)
120(115~125cm)
130(125~135cm)
140(~140cm)
150(~140cm)
1,100 yen
Girl Swimsuit
(Bust / Height)
100(49~55cm / 95~105cm)
110(53~59cm / 105~115cm)
120(57~63cm / 115~125cm)
130(61~67cm / 125~135cm)
140(65~71cm / ~140cm)
150(74~80cm / ~150cm)
1,100 yen
Rash Guard
(Bust)
M(88~96cm)
L(96~104cm)
2L(104~112cm)
3L(112~120cm)
1,100 yen
Rental Pareo
FREE
1,100 yen

Pool Toys & Safety Equipment

| | |
| --- | --- |
| | Fee |
| Armbands | Free |
| Life Jacket | Free |
| Pool Toy Set | 1,600 yen |
| Pool Debut Set | 1,500 yen |
| SUP Rental (30 minutes) | 1,100 yen |
Dates

December 1, 2023 -April 1, 2024

April 28 - November 1, 2023

Time
11:00 am - 8:00 pm (Last Admission 7:00 pm)
April 29 - May 8 & July 23 - August 31, 2023 10:00 am - 8:00 pm

*Please note that business hours are subject to change.
*When using the baths before check-in, please stop by the front desk of the hotel you are staying in.
*Close at 5 pm on April 1 (Last Admission 4 pm)
*Close at 5 pm on November 1 (Last Admission 4 pm)

Entry Fee

Staying Guests

Free

*Please fill out the Free Passport given to you at check-in and present it at the Mina-Mina Beach reception desk.
*Not applicable for guests staying at Village Alpha.

Day Trip Guests

Adult 2,600 yen / Age 7-11 1,100 yen
*Guests who have purchased admission to Mina Mina Beach can also bathe in the "Kirin-no Yu" baths.
*Preschool children are admitted free of charge.
*All tattoos, including one-point fashion tattoos, are not allowed to be exposed. Please wear a rash guard or other protective clothing when using the facilities. (this applies to swimming as well.)
*Children under 12 years old must be accompanied by a parent or guardian. (an adult aged over 18 years old).
*Bath towels and face towels are available for free rental.
*Re-entry is possible during business hours with the purchase of a ticket. For example, a one-day ticket allows re-entry on the same day, and a stay ticket allows re-entry during business hours between the check-in and check-out dates.
Please check the Terms and Conditions before visiting.