Open Period

December 1, 2023 - March 31, 2024

Frost Tree light up period (open at night)
December 1, 2023 - December 25, 2023

Open hours

Business hours during Frost Tree light up period
16:30-18:00 last up; 18:30 last down

December 1 - 25
9:00-15:00 last up; 15:30 last down

December 26 - March 31
9:00-15:30 last up; 16:00 last down

Price

Adult 2,200 yen, Child(age 7-12) 1,300 yen


* Gondola round trip fee (free for guests with a lift coupon)
* Both are the time for the last gondola going up (time for getting off the last ride is 30 min after for both)
* During business hours, there may be situations where frost tree does not occur or business operation is suspended due to weather conditions.
What is Frost Tree?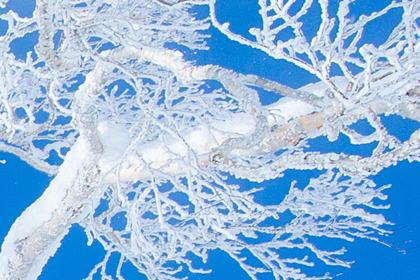 When the surrounding is below freezing point, the water vapor or fog in the air freezes onto the plants. This kind of frosting is most commonly known as "Frost Tree".
Easy access to the mid-mountain by Unkai Gondola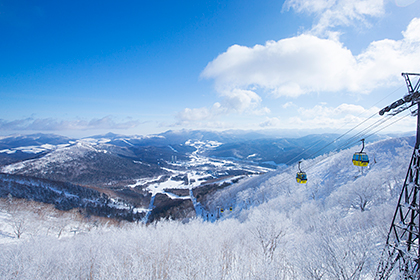 Take a 13-min ride from the mid-mountain resort center on the Unkai Gondola, to enjoy the magnificent scenery from the Terrace of Frost Tree ("Unkai Terrace" in summer) 1088m above sea level.
KUMO Cafe
Please enjoy our original menu while viewing the magnificent scenery.
Frosted Chocolate
This chocolate is inspired by frosted trees. It is filled with Tomamu milk jam and pairs exceptionally well with warm beverages.
1,000 yen

Frost Tree Coffee
This hot coffee is served with white Amezaiku (Japanese craft candy art) inspired by rime ice. Enjoy the combination of the bitter coffee and the sweet melting Amezaiku.
600 yen * Limited quantity
Snow Mountain Walking Trail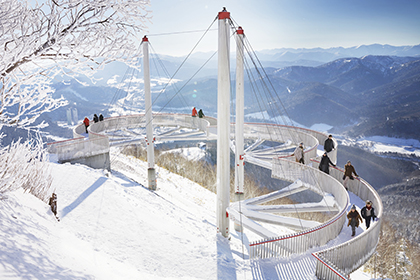 Please enjoy the 200m Snow Mountain Walking Trail between the Terrace of Frost Tree and "Cloud Walk".
Available only until December 25
Light up event at Terrace of Frost Tree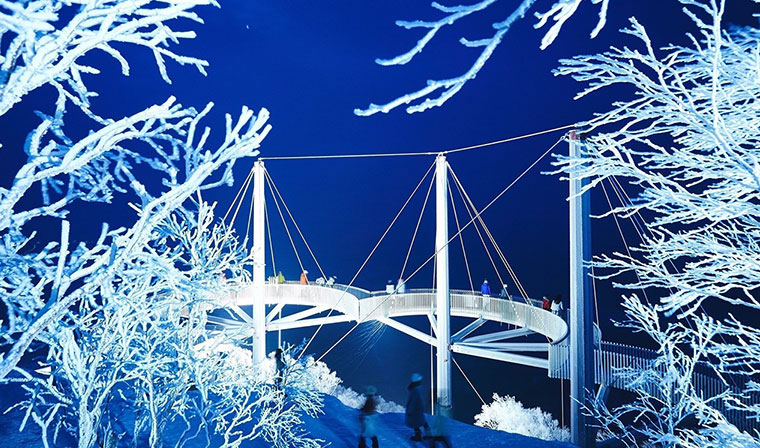 A light up event at the Terrace of Frost Tree will be held.
After the business hours of the ski field, at the Terrace of Frost Tree surrounded by silence, please enjoy the night scenery with illuminated frost tree, and sometimes even diamond dust can be seen.
Period : December 1, 2023 - December 25, 2023
Open hours : 4:30 pm - 6:00 pm last up 6:30 pm last down
Frost Tree incidence
■Average of 68% each winter (data from 2022-2023)
| November | December | January | February | March | April |
| --- | --- | --- | --- | --- | --- |
| - | 80% | 77% | 82% | 32% | - |