Open Period

DEC 1, 2022 to MAR 31, 2023

Open hours

[ Day Time ] 9:00 - 15:00
[ Night Time ] 16:30 - 18:00 Last ride(Period: DEC 1-25, 2022)

Price

Adult ¥2,200, Child(age 7-12) ¥1,300


* Gondola round trip fee (Guests with lift coupon may ride for free)
* Both are the time for the last gondola going up (time for getting off the last ride is 30 min after for both)
* During business hours, there may be situations where frost tree does not occur or the business hours are cancelled due to weather conditions.
What is Frost Tree?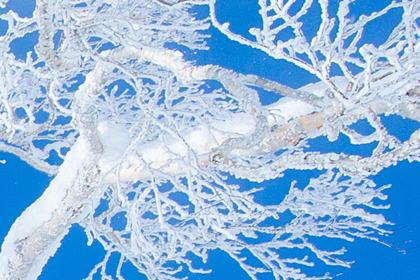 When the surrounding is below freezing point, the water vapor or fog in the air attach onto the plants. This kind of frosting is most commonly known as "Frost Tree".
Easy access to the mid-mountain by Unkai Gondola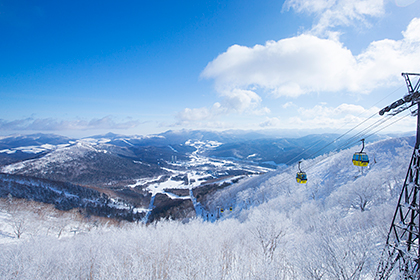 A 13-min ride from the mid-mountain resort center on the Unkai Gondola.
Please enjoy the magnificent scenery from the Terrace of Frost Tree ("Unkai Terrace" in summer) 1088m above sea level.
Tenbou Cafe
Please enjoy our original menu while viewing the magnificent scenery.
霧氷チョコレート
霧氷の木々をイメージしたチョコレートです。トマム牛乳のミルクジャムがチョコレートの中に詰まっており、暖かい飲み物との相性は抜群です。
料金:1,000円

Frost Tree Coffee
霧氷をイメージした真っ白な飴細工を添えたホットコーヒーです。コーヒーのほろ苦さと、溶けていく飴細工の甘さを味わえます。
料金:600円 ※数量限定

霧氷ホットカクテル
温めた牛乳にホワイトチョコレートリキュールを加えたホットカクテルです。
飲む前に、雪の結晶をモチーフしたホワイトチョコレートを溶かしながら飲みます。
とろけるような滑らかな口当たりと甘さが冷えた身体を芯から温めてくれるホットカクテルです。
料金:800円(ノンアルコール600円)
Snow Mountain Walking Trail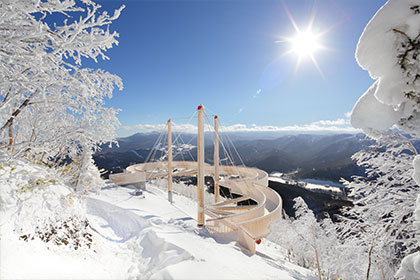 Please enjoy the 200m Snow Mountain Walking Trail between the Terrace of Frost Tree and "Cloud Walk".
Only until December 25 Light up event at Terrace of Frost Tree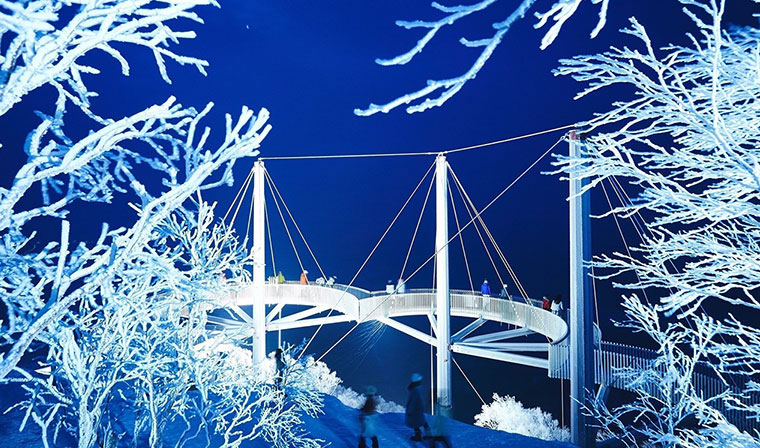 A light up event at the Terrace of Frost Tree will be held.
After the business hours of the ski field, at the Terrace of Frost Tree surrounded by silence, please enjoy the night scenery with illuminated frost tree, and sometimes even diamond dust can be seen.