Reception place

The Tower Ⅱ second flower GAO Nursery counter

Period

Dec 1, 2022 - April 1, 2023

Company

Baby & Kids care service SHITTAN

Reservation

0155-22-0726(株式会社しったん)

Reception time

9:00 a.m. - 4:00 p.m.
※「Indoor Nursery & Snow Play 」is by appointment only
Indoor Nursery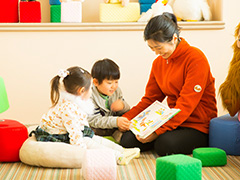 The reservation for Nursery will be available from 2 hours (for minimum). You may use the service while you have a lesson or rental.
We also recommend to the parents who would like to relax or have dinner during the nursery.
The professional staff will take care of your child with safety.
Age

5 months - 8 years old

Time

8:30 a.m. - 5:00 p.m. (Last Reception 4:00 p.m.)

Required Time

from 2 hours

Price

2 hours 6,000 JPN yen
※ Extension every 30 minutes 1,500 JPN yen

Capacity

10 kids

Personal Effects

Diaper, baby wipe, Change of clothes, unopened snack, unopened drink. If Nursery time between 12:00 pm to 13:00 pm - baby food (the baby less than 2 moths) and kid's lunch.
1. We may refuse to take care of children who are not well, such as fever (37.5 degrees Celsius or higher) or infections, or who are deemed unsuitable for group child care by Nursery staff.
2. We will call you by mobile phone in case of emergency. We will ask you to write down a contact number that you can contact during the storage time.
3. We do not accept medication by Child Care staff.
If you have any questions, please contact GAO Child Care at extension 6183.
Option
Night nursery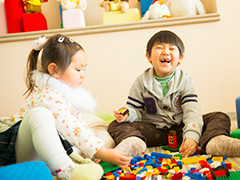 business hours

6:00 p.m. - 9:00 p.m.

time required

2 hours or more

Fees

2 hours 8,000 yen Extended 30 minutes 2,000 yen
Dinner bento: Advance reservation 1,300 yen

Capacity

5 kids
Much Snow Play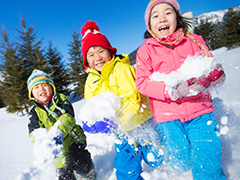 If your child wants to play outdoor, we have an option for you!
This Nursery offers snow playing, sled playing, and so on.
※ Include 60 minutes of outdoor snow playing time within 2 hours Nursery
Age

2 years old ~

Time

10:00 a.m. - 4:00 p.m.

Required Time

60 minutes

Price

2,000 JPN yen

Capacity

5 kids
1day program
Play in the snow + Lunch + Craft
You can experience a lot of Hokkaido. Play with snow, soap bubbles and sledding in the snow, craft making, make your own key chain, which is one of a kind in the world, and play with a lot of nurseries.
Target age

3 years and up

Time

10:00 a.m. - 4:00 p.m.

Fee

25,000 yen
Extension 30 minutes 1,500 yen
Day care course + lunch
It is a course where you can leave your child without preparing lunch or diapers. It is a childcare service where you can leave your child empty-handed.
*We do not deal with allergies.
*Please bring baby food, milk and baby bottles.
*Please be prepared to go out and play.
Target age

5 months to 8 years old (preschool age)

Time

10:00 a.m. - 4:00 p.m.

Fee

20,000 yen + 1,000 yen (lunch charge)
Extension 30 minutes 1,500 yen