Powder Area Registration Desk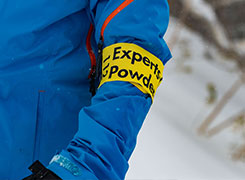 Areas restricted to advanced skiers only require separate procedures at the reception desk. After signing the waiver and agreement, skiers will go onto the mountain wearing helmets and armbands.
*Before entering the mountains, skiers must receive an explanation of all off-limits areas and a lecture on skiing safely in the restricted areas. This is one of Tomamu's rules to ensure safety when skiing outside the courses.
Open Hours

8:30 - 15:00(Must enter by)
Be sure to return by 15:30 every day regardless of whether a day trip or stays for multiple nights in a row.

Place

Resort Center1F

Conditions of use

Signature on the agreement, or presentation of the e-mail verifying the completion of a previous application via the Web (minors need approval from their parents or guardians.)
Wearing of a helmet (rented at the reception desk) and armband
Possession of a mobile phone (fully charged)
In order to be fully informed of conditions on the mountain on any particular day, and to enjoy skiing safely, all participants are required to return their armbands by 15:30 every day regardless of a day trip or stay for multiple nights in a row (in the event armbands are not collected at 15:30, a patrol party will begin a search.)
Search and Rescue Expense
Convenient advanced application via the Web is recommended.
 
(On the day of use, present the e-mail verifying the acceptance of your application. The application is valid for this season only.)